New state-of-the-art headquarters supports healthcare IT company's growth.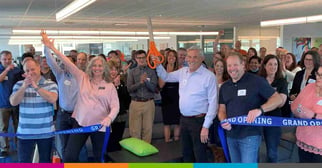 Alpharetta, GA – March 31, 2022 – Surgical Information Systems ("SIS"), the industry leader for business and clinical surgical software for hospitals and ambulatory surgery centers (ASCs), celebrated the opening of a new corporate headquarters, welcoming associates back in-office after more than two years of remote work.
SIS has been headquartered in Alpharetta for over 25 years and its new office is located in the heart of Alpharetta, GA, in the dynamic, mixed-use Avalon community. The new office is designed to be a modern centralized location for meeting and working while facilitating flexible schedules and hybrid collaboration.
"We are excited about opening our new headquarters that offers our team flexible working, meeting, and collaboration space. The new offices were designed to meet the needs of both our Atlanta-based associates, as well as serve as a hub for our visiting associates and clients," says Tom Stampiglia, SIS President and CEO. "Our new Avalon location meets our desire for innovative space in the heart of a vibrant multi-use area. The new headquarters would not be possible without the hard work and success of our teams and the loyalty of our customers."
SIS continues to be recognized for both its award-winning products and distinguished company culture. Most recently, it's been ranked as the #1 ASC Electronic Health Record (EHR) by both KLAS Research and Black Book Market Research (seven years running), as well as being recognized as a Top Workplace in Atlanta and the USA overall (2 years running).
This new location is a strong testament to the company's commitment to delivering perioperative IT solutions that help improve patient outcomes and satisfaction, reduce costs, and drive revenue growth for its clients, as well as providing a work environment that supports collaboration, innovation, and well-being for its associates.
For more information on SIS employment opportunities, visit the careers page.
ABOUT SURGICAL INFORMATION SYSTEMS
Since 1996, Surgical Information Systems ("SIS") has been dedicated to providing surgical care providers with the solutions and services they need to deliver improved operational, financial, and clinical outcomes.
Focused exclusively on perioperative IT, the SIS award-winning product suite[1][2] is built specifically for the perioperative environment and includes hospital and ASC-focused solutions covering perioperative Electronic Medical Records (EMRs), Anesthesia Information Management Systems (AIMS), ASC business management, and business intelligence and analytics solutions. Services include revenue cycle management to complement SIS's software solutions.
SIS is a 2022 Top Workplaces USA and an Atlanta Top Workplaces 2022, award winner, chosen based solely on employee feedback gathered through an employee engagement survey issued by Energage. For more information, visit SISFirst.com.
Media Contact
Emmy Weber, Chief Marketing Officer, Surgical Information Systems, Eweber@SISFirst.com
[1]Black Book Research Rankings – "Top Technology Solutions: Ambulatory Surgical Centers" March 2022, "Top Technology Solutions: Ambulatory Surgical Centers" March 2021, "Top Technology Solutions: Ambulatory Surgical Centers" February 2020, "Top Technology Solutions: Ambulatory Surgical Centers" April 2019, "Top Ambulatory Electronic Health Records Solutions: Ambulatory Surgical Centers" April 2018, "Top Electronic Medical Records/Electronic Health Records Vendors" April 2017, & "Top Ambulatory Electronic Health Records Vendors Comparative Performance Result Set of Top EHR Vendors," May 2016.
[2]KLAS Research - KLAS Research Rankings - "2022 Best In KLAS: Software and Services"
SIS, the SIS logo, and Surgical Information Systems are trademarks of Surgical Information Systems, LLC. Other company and product names may be trademarks of their respective owner.