Surgical Information Systems received the 2022 Top Workplaces USA award for the second year in a row.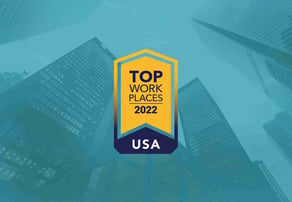 Alpharetta, Georgia, February 01, 2022 - Surgical Information Systems, the industry leader for business and clinical surgical software serving more than 2,200 hospitals and ambulatory surgery centers (ASCs), has announced it has earned the 2022 Top Workplaces USA award, issued by Energage, a purpose-driven organization that develops solutions to build and brand Top Workplaces. The Top Workplaces program has a 15-year history of surveying more than 20 million employees and recognizing the top organizations across 60 markets for regional Top Workplaces awards.

SIS also earned the Top Workplaces Industry Award for the Technology Industry as well as several Culture Excellence distinctions which highlight the company's strongest culture drivers. Culture Badges are only awarded when the company ranks in the top 25% of organizations for each category.

"SIS is thrilled to be a Top Workplace for the second year in a row. I can't say enough about our associates' commitment to our clients, and still, it goes further than that; our continued success starts with our core values as a company, lived out by our associates daily," says Tom Stampiglia, SIS' Chief Executive Officer. "At SIS, we prioritize creating an environment that supports collaboration, encourages innovation, provides direction and feedback, allows for work-life balance, and fosters health and well-being. This is a particularly proud day for me and the entire SIS family."

Top Workplaces USA celebrates organizations with 150 or more employees that have built great cultures. Over 42,000 organizations were invited to participate in the Top Workplaces USA survey. Winners of the Top Workplaces USA list are chosen based solely on employee feedback gathered through an employee engagement survey, issued by Energage.

Results are calculated by comparing the survey's research-based statements, including 15 Culture Drivers that are proven to predict high performance against industry benchmarks.

"Companies need to authentically represent their brand to job-seekers," said Eric Rubino, Energage CEO. "The employee experience needs to be on the mission-critical list. Leaders who embrace a people-first culture will benefit greatly. By giving employees a voice and showcasing your authentic culture through employer branding, organizations can attract those job seekers who complement their culture. Culture drives performance."

For more information on SIS employment opportunities, visit the careers page.

ABOUT SURGICAL INFORMATION SYSTEMS
Since 1996, Surgical Information Systems ("SIS") has provided surgical care providers with the software solutions they need to deliver improved operational, financial, and clinical outcomes. The SIS hospital perioperative IT suite includes OR scheduling, nursing and anesthesia documentation, patient tracking, charging, and analytics. In recent years, SIS expanded into the ambulatory surgery center (ASC) market beginning with the 2014 acquisition of AmkaiSolutions, and later the 2017 acquisition of SourceMedical. The investment in award-winning[1] ASC solutions led to the introduction of the first fully cloud-based, complete solution for ASC management, clinical documentation, patient engagement, care coordination, physician mobile capabilities, and analytics. Today, SIS is the perioperative IT leader serving over 2,200 surgical facilities.

[1]Black Book Research Rankings

COMPANY CONTACT
Surgical Information Systems
eweber@sisfirst.com, 678.507.1706
https://www.sisfirst.com

ABOUT ENERGAGE
Making the world a better place to work together.
Energage is a purpose-driven technology company that helps organizations build and brand Top Workplaces. Built on 14 years of culture research and the results from 23 million employees surveyed across more than 70,000 organizations, Energage delivers the most accurate competitive benchmark available. With access to a unique combination of patented analytic tools and expert guidance, Energage customers lead the competition with an engaged workforce and an opportunity to gain recognition for their people-first approach to culture. For more information or to nominate your organization, visit energage.com or topworkplaces.com.