Surgical Information Systems take top spot in 12 of the survey's 18 performance areas of operational excellence, leading to a #1 ASC EHR vendor ranking for seventh consecutive year.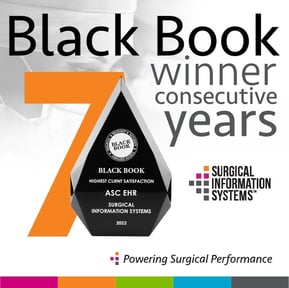 Alpharetta, Georgia, March 14, 2022 – Surgical Information Systems ("SIS"), the industry leader for business and clinical surgical software serving more than 2,200 hospitals and ambulatory surgery centers (ASCs), announced its rating in the Black Book™ 2022 Survey that evaluated ambulatory electronic health records (EHRs) for ASCs.
Survey results from physicians, clinicians, and administrative staff representing nearly 650 ASCSs were included in this year's report which recognized SIS as the No. 1 overall ASC EHR vendor for the seventh consecutive year[1].
Black Book Market Research, a full-service, healthcare-centric market research and public opinion research company, conducts annual surveys to rank operational excellence with EHR vendors. Data gathered through Black Book surveys is subjected to immediate internal and external audit to verify accuracy and ensure statistical confidence. Click here for more information on the Black Book methodology.
Black Book's unique methodology gathers information on 18 operational excellence key performance indicators (KPIs) across four functional subsets. SIS products were awarded three out of four top vendor functional subset honors for:
Patient engagement, health data management, and administrative processing;

Interoperability, communications, telehealth and connectivity; and

Order entry, revenue cycle and practice management.
SIS products also earned top honors in 12 of 18 key performance indicator categories, including:
Innovation & Optimization
Scalability, Client Adaptability, Flexible Pricing
Customization
Trust, Accountability, Transparency, Ethics
Training
Strategic Alignment of Client Goals, including VBC & Regs

Client relationships and cultural fit
Deployment and Outstanding Implementation
Marginal Value Adds and Modules
Financial & Managerial Viability
Support and Customer Care
Best of Breed Technology and Process Improvement


SIS is the only ASC EHR vendor to score in the top 10% across all 18 key operational performance indicators, resulting in a score of 9.74 out of 10. This top tier signifies vendors that have received the highest client satisfaction scores.
"We take tremendous pride in earning this #1 ASC EHR vendor recognition from Black Book Market Research for the seventh year in a row," says Tom Stampiglia, SIS President and CEO. "The challenges faced by today's ASCs are complex in nature, and we believe smarter facility operations require smarter software to help ease that burden and help centers deliver outstanding outcomes. We are honored to be recognized as the ASC industry's leading provider of EHR software – further emphasizing our unwavering commitment to excellence."
SIS ASC solutions are specifically designed to add value throughout the surgical care delivery model. The growing line of ambulatory solutions includes SIS Complete, which includes ASC management, clinical documentation, patient and physician engagement, and analytics in one cloud platform.
The ranking is the latest in a series of awards recognizing SIS as a surgical software industry leader and champion of corporate workplace culture. Other recent accolades earned include KLAS Research "Best in KLAS 2022" for ASC Software, "Top Workplace USA 2022" and "Top Workplaces Atlanta 2022".
ABOUT SURGICAL INFORMATION SYSTEMS
Since 1996, Surgical Information Systems ("SIS") has been dedicated to providing surgical care providers with the solutions and services they need to deliver improved operational, financial, and clinical outcomes.
Focused exclusively on perioperative IT, the SIS award-winning product suite[1][2] is built specifically for the perioperative environment and includes hospital and ASC-focused solutions covering perioperative Electronic Medical Records (EMRs), Anesthesia Information Management Systems (AIMS), ASC business management, and business intelligence and analytics solutions. Services include revenue cycle management to complement SIS's software solutions.
SIS is a 2022 Top Workplaces USA and an Atlanta Top Workplaces 2022, award winner, chosen based solely on employee feedback gathered through an employee engagement survey issued by Energage. For more information, visit SISFirst.com.
Media Contact
Emmy Weber, Chief Marketing Officer, Surgical Information Systems, Eweber@SISFirst.com
[1]Black Book Research Rankings – "Top Technology Solutions: Ambulatory Surgical Centers" March 2022, "Top Technology Solutions: Ambulatory Surgical Centers" March 2021, "Top Technology Solutions: Ambulatory Surgical Centers" February 2020, "Top Technology Solutions: Ambulatory Surgical Centers" April 2019, "Top Ambulatory Electronic Health Records Solutions: Ambulatory Surgical Centers" April 2018, "Top Electronic Medical Records/Electronic Health Records Vendors" April 2017, & "Top Ambulatory Electronic Health Records Vendors Comparative Performance Result Set of Top EHR Vendors," May 2016.
[2]KLAS Research - KLAS Research Rankings - "2022 Best In KLAS: Software and Services"
SIS, the SIS logo, and Surgical Information Systems are trademarks of Surgical Information Systems, LLC. Other company and product names may be trademarks of their respective owner.