Surgical Information Systems once again has been honored as one of Atlanta's best employers by The Atlanta Journal-Constitution.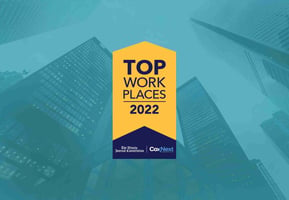 Alpharetta, Georgia, March 14, 2022 – Surgical Information Systems ("SIS"), the industry leader for business and clinical surgical software serving more than 2,200 hospitals and ambulatory surgery centers (ASCs), has been awarded a Top Workplaces 2022 honor by the Atlanta Journal-Constitution.
The list is based solely on employee feedback gathered through a third-party survey administered by employee engagement technology partner Energage LLC. The anonymous survey uniquely measures 15 culture drivers that are critical to the success of any organization: including alignment, execution, and connection, just to name a few.
"During this very challenging time, Top Workplaces has proven to be a beacon of light for organizations, as well as a sign of resiliency and strong business performance," said Eric Rubino, Energage CEO. "When you give your employees a voice, you come together to navigate challenges and shape your path forward. Top Workplaces draw on real-time insights into what works best for their organization, so they can make informed decisions that have a positive impact on their people and their business."
"I am honored that SIS has once again been recognized as one of the best workplaces in Atlanta," says Tom Stampiglia, SIS' Chief Executive Officer. "Over the last few years, we've had to quickly evolve and innovate our workplace, and to be repeatedly recognized for our company's values and culture indicates to me that we continue to attract and retain the top talent in our industry. We believe in building people as much as we do in building products, and I'm so thankful to work alongside so many amazing people who show up every day for both our clients and each other, even during the most challenging times."
The ranking is the latest in a series of awards recognizing SIS as a surgical software industry leader and a champion of corporate culture and workplace excellence. Other recent accolades earned include KLAS Research "Best in KLAS 2022", and Energage's "Top Workplace USA 2022".
For more information on SIS employment opportunities, visit the careers page.
ABOUT SURGICAL INFORMATION SYSTEMS
Since 1996, Surgical Information Systems ("SIS") has provided surgical care providers with the software solutions they need to deliver improved operational, financial, and clinical outcomes. The SIS hospital perioperative IT suite includes OR scheduling, nursing and anesthesia documentation, patient tracking, charging, and analytics. In recent years, SIS expanded into the ambulatory surgery center (ASC) market beginning with the 2014 acquisition of AmkaiSolutions, and later the 2017 acquisition of SourceMedical. The investment in award-winning[1][2] ASC solutions led to the introduction of the first fully cloud-based, complete solution for ASC management, clinical documentation, patient engagement, care coordination, physician mobile capabilities, and analytics. Today, SIS is the perioperative IT leader serving over 2,200 surgical facilities.

[1] Black Book Research Rankings – "Top Technology Solutions: Ambulatory Surgical Centers" March 2021, "Top Technology Solutions: Ambulatory Surgical Centers" February 2020, "Top Technology Solutions: Ambulatory Surgical Centers" April 2019, "Top Ambulatory Electronic Health Records Solutions: Ambulatory Surgical Centers" April 2018, "Top Electronic Medical Records/Electronic Health Records Vendors" April 2017, & "Top Ambulatory Electronic Health Records Vendors Comparative Performance Result Set of Top EHR Vendors," May 2016.
[2] KLAS Research Rankings – "2022 Best In KLAS: Software and Services"

COMPANY CONTACT
Surgical Information Systems
eweber@sisfirst.com, 678.507.1706
https://www.sisfirst.com

ABOUT ENERGAGE
Making the world a better place to work together.
Energage is a purpose-driven technology company that helps organizations build and brand Top Workplaces. Built on 14 years of culture research and the results from 23 million employees surveyed across more than 70,000 organizations, Energage delivers the most accurate competitive benchmark available. With access to a unique combination of patented analytic tools and expert guidance, Energage customers lead the competition with an engaged workforce and an opportunity to gain recognition for their people-first approach to culture. For more information or to nominate your organization, visit energage.com or topworkplaces.com.