The momentum of ASC technical advancements shows no sign of slowing down in 2022. Take a look at what a selection of SIS associates are forecasting to be major trends.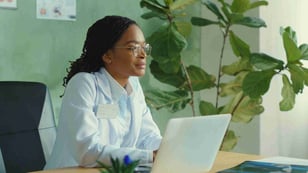 The last few years have been packed with rebounds, pivots, and opportunities for innovation in the healthcare industry. To kick this new year off, we spoke with several SIS associates who are hands-on with the development of our technology and "face-to-face" with the ASC industry about how 2021 went and what trends they're forecasting for 2022.
What do you feel was SIS' biggest accomplishment in 2021?
Daren Smith, Director, ASC Solutions: The momentum that we've continued to create in the market. We're talking about a market that has been comfortable sitting on 20-year-old software. Many are using software that was created in the 90s, and nobody uses any piece of technology in their own personal life from the 90s. I challenge them to make a cellphone from then work now. So, I think our biggest accomplishment was giving people the information they needed to say, "Maybe I should take a look at all the good and wonderful things that this technology can bring me." The kind of conversion that's taken other products a decade to accomplish, we've surpassed in just the last few years.
Shannon Brainard, Clinical Solutions Specialist: I'd say, how fast SIS delivers new features. In our demos, I've really been stressing how quickly we release new features. Look at our competitors: we get feedback from [the industry] that it can take up to four months to fix a bug – compared to our weekly automatic updates. I just think that that goes a long way.
Tom Pinelli, Director, Product Management: First, being recognized by Black Book as the No. 1 overall ASC EHR vendor for the sixth year in a row. But something I'm also personally very proud of is key enhancements to our cloud solutions – Electronic remittance posting (ERP), bulk preference card management, patient sharing, equipment configuration, multi-language support for SIS Exchange, denial management, a new images section in our clinical solution which offers a lot of value... There are so many big hitters that were delivered in 2021. It took a lot of work, and we're really proud of what we did here.
Do you have a favorite client story involving their use of technology to help achieve a milestone in 2021?
DS: I have several clients that we did demonstrations for, and they say, "Do you realize how much time that will save me?" When they look at SIS Analytics and say, "Do you realize I spend days putting together a board packet that includes the information you showed me in four minutes?". That's where I have the most interaction with the clients' milestones: showing them the possibilities.
Rhonda Hixson, Director, Product Management: It's not necessarily a client story, but something we're very proud of: In 2021, a government requirement came out for our clients in New York that required them to submit a great deal of very detailed facility data in a very short amount of time. This audit information needed to come from all four SIS products they were using, and each product team was able to write specific scripts to pull the data and provide the necessary input to our clients, with almost an immediate turnaround. That shows our willingness to drop everything when our clients need our help, and we should be particularly proud of that.
What do you feel is a trending area of importance for ASCs going into 2022?
DS: I see a lot of importance being placed on physician and patient connectivity. In the past, it was "we gave them a call a couple of days before the procedure and that was it." That was the extent of our engagement. But with so much competition for cases nowadays, facilities have the opportunity to really impress people and create that loyalty to their surgery center by what they can provide the physician – how convenient is it for them to schedule and work at the surgery center – as well as the patient – how easy is it to go online to see a copy of the bill, fill out all my information, and receive notifications from the facility. I see that trending; more and more are interested in that connectivity and want more of that ability to engage with those two groups.
RH: A lot of patient engagement, specifically with No Surprise Billing and dealing with being able to get estimates to customers. Requirements for patient statements – being user-friendly and available in different languages if needed. A huge effort is geared towards enhancing the patient experience because that's our clients' goal, too.
Editor's Note: During these interviews, there was a group sentiment that, in response to COVID, there's a push to automate processes and create touchless environments. For example, electronic payments allow patients to go into a portal to pay a bill or view a statement without leaving their house, and automated procedure notifications to caretakers that update them since they can't enter the facility. Rhonda stated that development is focused on doing "anything we can to facilitate the automation between the facility and the patient, reducing the need for the patient to physically be in the center before their procedure, or for someone to pick up the phone or perform an extra step."
What technology are you hopeful/excited to see gain interest in 2022?
DS: Automation, automation, automation. There is so much to be gained by automation and trusting the automation that is out there. I hope people have more interest in that, otherwise, I think we're going to start to see some surgery centers fail or close because they can't keep up with "doing more with less". As an industry, ASCs have spent so many years throwing more people at the problem, when we really need to just trust the automation and use the machines to do the work so we can reduce the amount of expense in performing some of these tasks.
TP: SMS and email technology for case coordination, specifically. SMS technology usually brings patient engagement to mind, but at SIS, we're also leveraging this functionality for improved coordination – meaning circulators, vendors, and other internal players can communicate efficiently to make sure a case is ready to go for that particular patient.
RH: More automated SMS technology. We're already doing a lot with that functionality, and it will continue to improve upon itself, especially with the patient and caregiver experience. By further embedding this technology into the facility workflow, notifications are truly automated – so as the nursing staff fills out their charts, the notifications are initiated and sent to the patient's family, letting them know that the patient is, say, moving through the surgical procedure or are ready to be picked up.
What are shaping up to be some of the areas of focus for SIS's technology development in 2022?
DS: Strengthening what we have and continuing to increase our ease of use. We've done a really great job of creating incredible features and functionality, and now we can focus on refining them to fit the wide range of unique ASCs out there.
SB: Client adoption! Our solutions provide a wealth of functionality, and we're focused on helping our clients get the most out of their feature-rich technology. Each of our client facilities are set up with a solution specifically built to support their individual needs and workflow, and it's important to us that they're set up for more than just a return on their investment, but also continual success.
TP: Accelerated delivery of enhancements. While we'll still be delivering large features, the focus will be just as much on smaller enhancements and making continual improvements to the cloud platform.
Bob Winkel, Product Manager: Client satisfaction. SIS is really making it clear to clients that we're listening to them and want to fulfill requests that would benefit their facilities.
RH: From the technical side, we really want to continue to help ASCs get comfortable with cloud-based technology. It's the newest and safest platform, and we want to start giving the industry incremental steps to be able to move more comfortably into that environment, along with getting familiar with EHR as opposed to paper charts.
What technology or functionality are you seeing a rising interest or request for going into 2022?
DS: Interoperability. Surgery centers have always been in their own silo, but we're seeing more consolidation where hospitals and health systems are acquiring these surgery centers or surgery centers are banding together. As management companies gather more centers under their belt, we're seeing more interest in interoperability functionality – being able to draw information in from outside sources or consolidating the data from multiple facilities. There's always been an interest in this, but I think as we see acquisitions and partnerships increase, there will also be an increased interoperability demand.
SB: Online patient engagement and interoperability. Especially now, because everybody wants the ability to go to a portal and see everything – they want to talk to the hospital, the practice, radiology, the lab – everybody wants that one-stop-shop, especially a lot of hospitals acquiring surgery centers.
TP: Barcoding, for multiple reasons: patient check-in, medication administration, and inventory management. Number two would be facilities becoming increasingly interested in electronic and/or touchless signing.
BW: Interoperability. People are always asking for interfaces to simplify their workflows by automating the sending and receiving of data.
RH: As COVID continues, we're going to get more requests for integration with state testing sites and data collection.
Conclusion
If 2022 is anything like the last few years, ASCs can expect to continue quickly adapting to the challenges faced by our healthcare industry. With that said, surgery centers have the opportunity to stay ahead of the curve – and stand out from the rest – by using innovative technology to drive efficiencies and enhance the patient experience, and SIS looks forward to providing the tools for these advancements.
For more information on what SIS solutions can do for your facility, visit us here or schedule a demo.