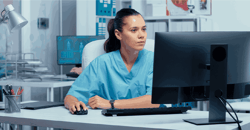 It has long been clear that innovations in medicine, combined with the U.S. healthcare system moving from a volume-based business model to an outcomes-based reimbursement model, have led hospitals to be more efficient, enhance operational performance, and provide cost-effective, high-quality care.
As more and more surgical procedures move from inpatient to outpatient settings, it follows that hospitals will not only open ambulatory surgery centers (ASCs) but will also increasingly look to partner with or acquire existing surgery centers. This dynamic provides opportunities and challenges for ASCs.
One of the significant decisions a surgery center faces while establishing a partnership with a hospital is choosing what software will keep up its high level of performance and efficiency: a hospital-specific system or an ASC-specific solution?
Decisions, Decisions
While researching office and electronic health record (EHR) systems, it quickly becomes obvious that there are a lot of options: some small, some robust; a few very focused, and others quite broad. At first, this may seem very advantageous. After all, more choices equal more opportunities to make the best pick, right?
But look a little closer and you realize that many of the options available to ASCs are not systems designed for surgery centers. Instead, you find a variety of hospital- or practice-focused systems that have either been modified or received add-on functionality to allow them to function in ASCs.
What's more is that once in a partnership, a hospital will often apply pressure for their ASC to deploy the hospital's existing enterprise system and align with their inpatient processes. Attempting to implement such software in an ASC can lead to significant problems, such as poor operational efficiency, user frustration, and low physician and staff satisfaction.
A Custom Fit
While navigating a hospital partnership, an ASC must advocate for the information technology that best supports their workflows while also working to help its partner hospital meet its goals and requirements. The good news is ASC software meets the distinct requirements of surgery centers but is also designed to share information with both hospital and practice systems to facilitate surgeries and the supporting information other stakeholders and systems need.
Here are five of the most noteworthy benefits of surgery centers using ASC-specific software.
1. Streamlined Efficiencies
ASCs are especially efficient because they specialize in high volumes of specific types of procedures performed exclusively in an outpatient setting. Using innovative technology designed to meet the specific needs of surgery centers generates significant improvements in ASC clinical, operational, and financial performance.
When using hospital-specific software, ASCs are often left to piecemeal technology, implement workarounds, and/or perform manual or duplicative documentation and processes to achieve objectives and keep information flowing. As one can imagine, these extra efforts can slow down staff and negatively affect an ASC's efficiency.
Having a single solution that is built for surgery center workflows is intuitive and contains the features and functionalities a center needs and removes the unnecessary work that comes with retrofitting software.
2. Configurability
Hospital systems are big (and costly) as they're designed to support an extensive variety of complex treatments and surgical procedures requiring a wide range of equipment and resources. They have ready-for-anything EHRs because they have ready-for-anything needs.
In contrast, ASCs specialize in high volumes of procedures from one specialty or a handful of specialties, so their software should be tailormade to adjust to those specialty-specific needs.
When an ASC uses the latest in ASC-specific software, they're met with a product that is easily configurable to meet that center's scheduling, billing, and documentation needs. There are no functionalities to work around or add on. Plus, as noted above, ASC software can communicate and share information with hospital systems to provide the surgical information needed at the hospital or health system level.
3. Accessibility
The pandemic has further highlighted the value of ASC physicians and staff being able to access their software from any location.
The ability for staff to use software to remotely schedule surgeries, manage the revenue cycle, communicate with patients, and provide surgeons with mobile access to view their schedules, sign documentation, and review patient records — all without needing to go to the center — has proved to be game-changing for ASCs during COVID-19.
Today's cloud-based ASC software solutions allow this convenience while providing enhanced security and mobile access to various functions and components, supporting staff to work virtually where possible.
Bonus: A cloud-based solution significantly reduces infrastructure costs and IT support, and software updates happen automatically.
4. Implementation and Training
ASCs are unique because they're specific in their needs and efficient in their work. Bulky software systems aren't a good option because they can be arduous to learn and maintain and can slow the staff down from the very beginning.
Unlike hospital system implementation and training requirements, ASC-specific software is fast to implement and train staff on.
Cloud-based ASC software is designed to be up and running quickly whereas hospital implementations can take months or years to complete. An additional big benefit of ASC-specific software is that end-user training is typically taking hours, not days or weeks. This means an ASC can start using its new solution and take advantage of its many benefits faster than if the center needed to implement and train on a hospital system. This increased speed and efficiency translate into reduced costs, enhanced productivity, and improved profitability.
5. Regulatory Requirements
Once a hospital establishes a partnership with an ASC, the hospital may be required to include that center's data in its federal and state reporting, including quality assurance information.
Without the right software tools, it may be difficult for an ASC to produce the necessary data. A hospital's EHR often does not have all the workflow and documentation elements needed by an ASC and may lack the flexibility for staff to quickly make changes to what they are documenting to meet requirements.
ASC-specific software easily captures the required reporting data and can share that data with the hospital systems to support compliance. This saves time and effort while ensuring both parties are meeting their reporting requirements.
Software Built with Today's ASC in Mind
Trying to scale down a hospital system to meet the needs of an ASC often requires significant configuration and expense — and even then, the solution may contribute to inefficiencies and decreased productivity. And once a center has entered a partnership with a hospital, outdated software — or no software at all — is not an option. So, what's your ASC's best bet?
Partnering with an ASC information technology vendor that supports the unique clinical, operational, reporting, and patient requirements of the ASC seems like a great place to start!
When a surgery center works with an ASC-focused IT vendor partner, the center's needs are recognized, and workflows are prioritized. Technology is only put in place to enhance staff productivity and ensure the center accomplishes its goals to provide effective, compliant, cost-efficient care and earn the center the reimbursement it deserves.