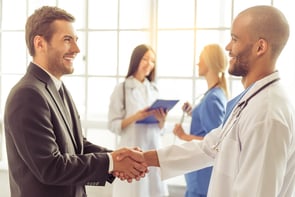 Recognized as a Revenue Cycle Management Leader for the Fourth Straight Year
BIRMINGHAM, AL – October 19, 2016 – SourceMed, the nation's leading provider of integrated, end-to-end technology solutions and revenue cycle services for outpatient facilities, today announced that it has been ranked by Modern Healthcare as one of the nation's 25 largest revenue cycle management companies. SourceMed moved up four spots on the list, in comparison to the previous year, and is ranked number 12.
"SourceMed is honored to be recognized by Modern Healthcare as one of the nation's largest revenue cycle management companies. Our ability to keep a close eye on changing regulations, while taking steps to help our clients maximize revenues, control costs and adopt a data-driven approach, has been key to our success," said Jho Outlaw, Senior Vice President of Revenue Cycle Services (RCS) at SourceMed. "As the healthcare industry transitions to value-based payment models, we are committed to helping outpatient providers manage this change with our industry-leading technology and processes which deliver proven financial success."
SourceMed Revenue Cycle Services help outpatient facilities get paid faster, reduce internal costs and stay compliant with changing regulations. The company's experienced team of certified coders, billers and collectors ensure timely and accurate reimbursements through efficient claim submission and collection management. All of these services are fully integrated without SourceMed's industry-leading billing and analytics solutions for transparency across the entire revenue cycle.
For more information on SourceMed's revenue cycle management services, please visit this page.
About SourceMed
SourceMed solutions capture, exchange and analyze data that enable outpatient facilities to optimize revenue, increase operational efficiency and improve compliance. Our integrated software, revenue cycle management, analytics and professional services are used by business and healthcare professionals in leading ambulatory surgery centers nationwide.
SourceMed Media Contact:
Julie Akstin-Dearing
JABB Communications
dearing@jabbcomm.com
Phone: 713-201-9000