SIS Charts electronic health record is top-ranked in Best in KLAS: Software and Services.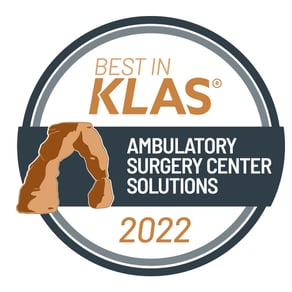 Alpharetta, Georgia, February 08, 2022 - Surgical Information Systems ("SIS"), the industry leader for business and clinical surgical software serving more than 2,200 hospitals and ambulatory surgery centers (ASCs), has been awarded the top honor in the 2022 Best in KLAS: Software and Services report for the Ambulatory Surgery Center Software segment.
The "Best in KLAS" designation recognizes companies for outstanding efforts to help healthcare professionals deliver better patient care. The designation is reserved for the software and services market segments that have the broadest operational and clinical impact on healthcare organizations. SIS's cloud-based ASC solution enables electronic clinical workflows and documentation that help surgery centers deliver high-quality, cost-effective outpatient surgical services.
"Each year, thousands of healthcare professionals across the globe take the time to share their voice with KLAS. They know that sharing their perspective helps vendors to improve and helps their peers make better decisions. These conversations are a constant reminder to me of how necessary accurate, honest, and impartial reporting is in the healthcare industry. The Best in KLAS report and the awards it contains set the standard of excellence for software and services firms," said Adam Gale, CEO of KLAS. "Vendors who win the title of Best in KLAS should celebrate and remember that providers now accept only the best from their products and services. The Best in KLAS award serves as a signal to provider and payer organizations that they should expect excellence from the winning vendors."
To determine its rankings, KLAS conducted interviews with numerous ASCs. SIS's technology ranked number one for Ambulatory Surgery Center software, leading the ASC segment in key performance categories including:
Overall satisfaction
Would you buy again
Product works as promoted
Ease of use
Keeps all promises
"Like all of healthcare, ASCs continued to face significant challenges this past year, and we have worked hard to deliver the advanced capabilities they need to continue to be successful," said Tom Stampiglia, President and CEO of SIS. "Efficient workflow and clinical processes are at the heart of surgery center success, and we are honored that 100% of surveyed clients indicated they would buy SIS again. This recognition from KLAS comes at a time when SIS is further solidifying its position as the ASC industry's leading provider of surgical software. SIS Complete, our all-in-one ASC solution, achieved record growth for the second consecutive year in 2021. Being awarded Best in KLAS is a clear indication of our commitment to being the provider of choice and empowering our clients to achieve outstanding results."
SIS delivers ASC-specific cloud-based technology covering the enterprise needs of surgery centers for scheduling, inventory management, revenue cycle management, electronic documentation, patient engagement, and analytics.
About KLAS
KLAS is a research and insights firm on a global mission to improve healthcare delivery by amplifying the provider's voice. Working with thousands of healthcare professionals and clinicians, KLAS gathers data and insights on software, services, and medical equipment to deliver timely reports, trends and statistical overviews. The research directly represents the provider voice and acts as a catalyst for improving vendor performance. Follow KLAS on Twitter and LinkedIn. Learn more at KLASresearch.com.
About Surgical Information Systems
Since 1996, Surgical Information Systems ("SIS") has been dedicated to providing surgical care providers with the solutions and services they need to deliver improved operational, financial, and clinical outcomes.
Focused exclusively on perioperative IT, the SIS award-winning product suite[1] is built specifically for the perioperative environment and includes hospital and ASC-focused solutions covering perioperative Electronic Health Records (EHRs), Anesthesia Information Management Systems (AIMS), ASC business management, and business intelligence and analytics solutions. Services include revenue cycle management to complement SIS's software solutions.
SIS is a 2022 Top Workplaces USA and an Atlanta Top Workplaces 2021, award winner, chosen based solely on employee feedback gathered through an employee engagement survey issued by Energage. For more information, visit SISFirst.com.
Media Contact
Emmy Weber, Chief Marketing Officer, Surgical Information Systems, Eweber@SISFirst.com
[1]Black Book Research Rankings – "Top Technology Solutions: Ambulatory Surgical Centers" March 2021, "Top Technology Solutions: Ambulatory Surgical Centers" February 2020, "Top Technology Solutions: Ambulatory Surgical Centers" April 2019, "Top Ambulatory Electronic Health Records Solutions: Ambulatory Surgical Centers" April 2018, "Top Electronic Medical Records/Electronic Health Records Vendors" April 2017, & "Top Ambulatory Electronic Health Records Vendors Comparative Performance Result Set of Top EHR Vendors," May 2016.
SIS, the SIS logo, and Surgical Information Systems are trademarks of Surgical Information Systems, LLC. Other company and product names may be trademarks of their respective owner.