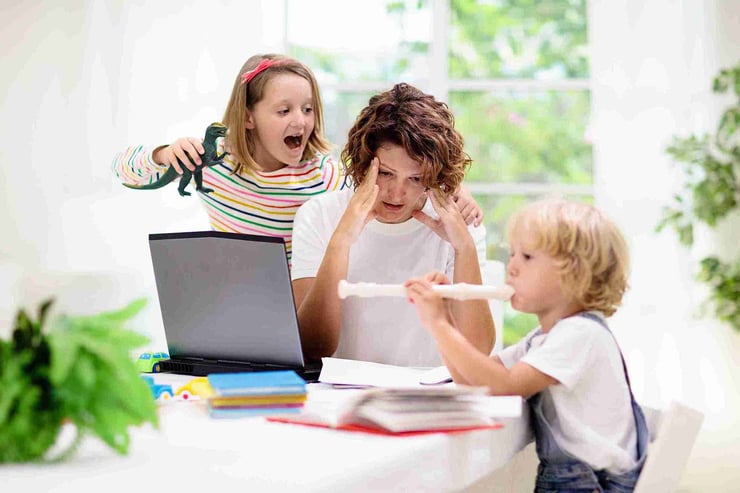 It's hard to believe that we've been under a national emergency order since March 13, 2020. Doesn't it seem like it's been a lot longer than that? At first, I think we all handled it pretty well. We got used to not traveling, eating all our meals at home, and having more leisure time without commutes. Now, we're not so sure.
As the health crisis continues, people are showing signs that this is affecting them in more ways than they could have imagined. Working from home used to be thought of as a dream situation. But then reality set in, and the dream is losing some of its shine.
I'm worried about all of us – not just the healthcare providers and first responders. COVID-19 affects all of us. We'd never considered social isolation before. (Who wants to bet that this term is entered into the dictionary's lexicon next year?)
What are the mental health impacts of social isolation? Are you depressed or anxious? Do you feel as if an invisible current is running through your new reality and messing with your attention span? Being alone with the 24/7 media coverage is overwhelming. Living with others may be causing tension too; bickering over little things can get on your last nerve. And if you really like people, you're now shut off from face-to-face contact. Well, know that you are not alone and, if encouraging signs are to be believed, many of us may be getting back to a new normal soon.
Here are some reminders on simple ways to spend a few minutes every day on self-care so we can better help each other going forward.
Exercise, even if just a quick walk
Get outside and get some fresh air
Develop a daily schedule and stick to it
Pray, meditate, or take a few deep breaths
Talk with friends and reconnect with old friends
Read a good book
Keep a gratitude journal
Watch Netflix/Amazon Prime instead of the news
Walk/play with your dog(s) or other pets who are members of your family
Plant a garden
Learn something new – cooking, baking, raising orchids (I live in Florida, and orchids are everywhere)
Tackle big projects you've been putting off – cleaning closets, defrosting your freezer, pressure cleaning your deck, etc.
Help your neighbors (check out Next Door)
Participate in rhythmic activities – singing, dancing, yoga, games
If you are working from home, set up a real work environment. You'll need a strong, fast internet connection. Two video monitors are ideal. Conduct meetings using Zoom or another app like RingCentral. Sit in a good office chair to prevent lower back pain. Use a headset when talking on the phone.
If you've been furloughed and you're a clinical employee, you can't do any work for the center, but you can take advantage of industry resources to brush up on your skills on your own time. If your ASC gets a government loan, you can start to complete work responsibilities. Examples include: reviewing the Policy & Procedure Manual; completing online education; conducting knowledge-based competencies; prepping for certification exams; reviewing IFUs to ensure they're current and that you have one for all your equipment; learning how to use a module like inventory management; evaluating/selecting/implementing an EHR system.
Bottom line through all of this: Take care of yourselves physically and mentally. Keep in touch with co-workers, friends, and family members. I believe that introverts are having an easier time. They tend to like peace and quiet and they don't need others to make them feel whole. The opposite is true for extroverts. We, as I'm an extrovert, like to interact in person. We need the handshakes and hugs. We like eye contact when we speak to others. I have to admit, I'm struggling with this, but I have embraced the alternative communication and collaboration tools of videoconferencing and podcasts, and I really think they will be used more in our industry going forward
Apparently, many in the US are also at the point that I am – getting frustrated and anxious to get back to normal. I believe that this will make us stronger, but I'm not sure we can ever go back to life as we knew it. What do you think will be different for our industry? I would love to see your comments. Stay strong and get help if you need it. You're too important to let COVID-19 beat you.