SIS solutions take top spot in 15 of the survey's 18 performance areas of operational excellence, leading to #1 ASC EHR vendor ranking for fifth consecutive year.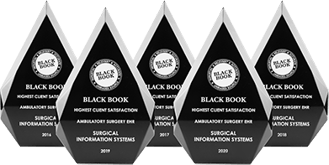 ATLANTA – March 11, 2020 – Surgical Information Systems (SIS), an industry leader focused exclusively on delivering perioperative IT to ambulatory surgery centers (ASCs) and hospitals, announced its ranking in the Black Book™ 2020 Survey that evaluated ambulatory electronic health records (EHRs) for ASCs.
Survey results from more than 600 ASCs were included in this year's report, which has recognized SIS Amkai as the No. 1 overall ASC EHR vendor for the fifth consecutive year[1].
Black Book Market Research, a full-service, healthcare-centric market research and public opinion research company, conducts annual surveys to rank operational excellence with EHR vendors. Data gathered through Black Book surveys is subjected to immediate internal and external audit to verify accuracy and ensure statistical confidence. Click here for more information on the Black Book methodology.
Black Book's unique methodology gathers information on 18 operational excellence key performance indicators (KPIs) across four functional subsets. SIS products were awarded three out of four top vendor functional subset honors: patient health data management and administrative processing; interoperability, communications, and connectivity; and order entry and management.
SIS products also earned 15 of 18 number one KPI rankings:
| | |
| --- | --- |
| Strategic alignment of client goals, including MU and MACRA | Innovation and optimization |
| | Client relationships and cultural fit |
| Trust, accountability, transparency, and ethics | Breadth of offerings, client types, delivery excellence |
| Deployment and outsourcing implementation | Best of breed technology and process improvement |
| Scalability, client adaptability, flexible pricing | Compensation and employee performance |
| Brand image and marketing communications | Marginal value adds and modules |
| Financial and managerial viability | Support and customer care |
| Integration and interfaces | |

"We take tremendous pride in earning this fifth consecutive No. 1 ASC EHR vendor recognition from Black Book Market Research," said Tom Stampiglia, SIS President and CEO. "It is a recognition of SIS' undisputed leadership position in delivering a complete software solution, including EHR, to meet the changing needs of ASCs. Our organization maintains an unwavering commitment to excellence as demonstrated by the delivery of SIS Complete™, the first comprehensive, cloud-based technology on a single database to meet the financial, clinical, and operational needs of ASCs."
SIS ASC solutions are specifically designed to add value throughout the surgical care delivery model. The growing line of ambulatory solutions includes SIS Complete, which includes ASC management, clinical documentation, and patient and physician engagement platforms, SIS Analytics™, and outsourced revenue cycle services.
About Surgical Information Systems
Since 1996, Surgical Information Systems ("SIS") has been dedicated to providing surgical care providers with the solutions and services they need to deliver improved operational, financial, and clinical outcomes. Focused exclusively on perioperative IT, SIS serves over 2,900 facilities across the United States and Canada.
SIS solutions are built specifically for the perioperative environment and include hospital and ASC-focused solutions covering perioperative Electronic Medical Records (EMRs), Anesthesia Information Management Systems (AIMS), ASC business management, and business intelligence and analytics solutions. Services, including revenue cycle management and ASC advisory services, complement SIS' software solutions.
For more information, visit SISFirst.com.
SIS, Surgical Information Systems, and SIS Complete are trademarks of Surgical Information Systems, LLC and its affiliates. AmkaiSolutions, AmkaiAnalytics, and SIS Charts are trademarks of Amkai LLC. AdvantX, Vision, and SurgiSource are trademarks of SourceMedical Solutions, Inc. Other company and product names may be trademarks of their respective owner.
About Black Book Research
Black Book Market Research, LLC is the parent group for Black Book Rankings, a full-service, healthcare-centric market research and public opinion research company. Founded in 2002, the company today serves a wide variety of prominent national and international clients. Black Book Rankings offers complete quantitative and qualitative research services, excelling in the design of customized surveys and research approaches to meet specific client needs in healthcare, pharmaceutics, biomedical devices, managed care, health insurance, and technology.
Over the years, Black Book Rankings has become adept at understanding the unique needs and issues of the broad spectrum of the entire healthcare industry it serves. The company also has a special understanding of the unique survey research requirements for the industry's clinically, technologically and managerially diverse stakeholders. For more information, please visit blackbookmarketresearch.com.
[1] Black Book Research Rankings – "Top Technology Solutions: Ambulatory Surgical Centers" February 2020, "Top Technology Solutions: Ambulatory Surgical Centers" April 2019, "Top Ambulatory Electronic Health Records Solutions: Ambulatory Surgical Centers" April 2018, "Top Electronic Medical Records/Electronic Health Records Vendors" April 2017, & "Top Ambulatory Electronic Health Records Vendors Comparative Performance Result Set of Top EHR Vendors," May 2016.