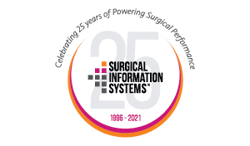 Continued innovation and dedication to the surgical space yields a record number of ambulatory surgery centers (ASCs) moving to cloud-based software for revenue cycle management, clinical documentation, patient engagement, and analytics
Atlanta, GA – April 13, 2021 – Surgical Information Systems ("SIS"), the industry leader for business and clinical surgical software serving more than 2,200 hospitals and ASCs, today announced it is celebrating 25 years of surgical technology leadership.
"We are thrilled to be celebrating 25 years as the leader in information technology dedicated exclusively to the unique needs of freestanding ASCs and hospitals," said Tom Stampiglia, President and CEO of SIS. "SIS started in 1996 by developing anesthesia and surgery documentation products for the hospital market. As the volume of surgical procedures began to migrate to the outpatient setting, we leveraged our considerable talent and expertise to become the industry leader in software solutions for ASCs."
As SIS celebrates 25 years of perioperative IT leadership in 2021, the company is sharing accomplishments and milestones to demonstrate its impressive success and growth.
SIS has been recognized as a 2021 Top Workplaces USA and an Atlanta Top Workplaces 2021. The company employs 400

associates.

About 40% of the ASCs in the U.S. run on SIS solutions, with nearly 30% running on SIS-hosted solutions. Since its launch in mid-2019, more than 250 ASCs have selected SIS Complete, a next generation ASC software platform.
More than 500 SIS clients use electronic clinical documentation, and SIS has been rated the

No.

1 overall ASC EHR vendor for six consecutive years by Black Book.
8 of the top 10 ASC management companies rely on SIS solutions. This includes the two largest ASC management companies which combined cover more than 500 ASCs.
Since the launch of SIS cloud solutions, 64% of all new construction ASCs have selected SIS solutions, making SIS the clear leader in ASC software for new surgery centers.
"I would like to congratulate SIS on their 25th anniversary and thank them for their many contributions to the growth and expansion of the ASC community," said Bill Prentice, CEO of the Ambulatory Surgery Center Association. "SIS solutions have helped their ASC clients to succeed clinically, operationally, and financially, making it easier for patients to get high-quality and cost-effective care."
Recognizing that the ASC market was ready for a cloud-based platform, SIS introduced SIS Charts™, web-based clinical documentation, in 2017. In 2019, SIS introduced SIS Complete™, which disrupted the market and redefined what ASCs should expect from their technology partner. In one cloud-based product, SIS Complete delivers a cost-effective software solution for ASC management, clinical documentation, patient engagement, communications, and physician mobile capabilities.
The pandemic has brought new attention to the needs of ASCs for anywhere, anytime access that is facilitated with cloud-based solutions and mobile patient, staff, and physician communication tools. "ASCs are investing in SIS's innovative solutions at unprecedented rates," said Stampiglia. "SIS clients love the native capabilities in SIS Complete that do not require interfacing to other solutions to achieve their goals. We saw a record number of ASCs selecting cloud solutions in 2020. That momentum and demand for SIS solutions continues to accelerate and is a perfect backdrop for SIS's 25th year celebration."

SIS has architected its cloud products to enable clients to preserve their existing investments while adding additional capabilities. "Cloud solutions offer a number of benefits," said Douglas Rempfer, Chief Operations Officer at SIS. "They are faster and easier to implement than previous products, and the modern software is easy to use. The ability for clients to add cloud functionality to their existing solutions allows them to step into the cloud at their desired pace. Once they add a cloud module, clients often move quickly to a fully cloud-based solution as they recognize the cost benefits, enhanced functionality, and reduced IT burden on their staff."
2020 was another milestone year for SIS as the company secured a growth investment from Accel-KKR, a leading technology-focused private equity firm. This investment supports the acceleration of SIS's clear market leadership position and continued expansion of its award-winning products that help surgical facilities prepare for the increasing volumes and complexity of outpatient surgeries.
SIS's dedicated perioperative IT associates are the heart of the company. "SIS is proud to be recognized as both a 2021 Top Workplaces USA and an Atlanta Top Workplaces 2021," said Stampiglia. "These accolades are a testament to the highly engaged and talented associates at SIS who are focused on delivering for our surgical clients every day."
"Our associates are excited to celebrate 25 years of serving the surgical community and are committed to exceeding customer and market expectations," added Stampiglia. "We look forward to extending our leadership position and continuing to meet the unique needs of the perioperative technology market."
About Surgical Information Systems
Since 1996, Surgical Information Systems ("SIS") has been dedicated to providing surgical care providers with the solutions and services they need to deliver improved operational, financial, and clinical outcomes.
Focused exclusively on perioperative IT, the SIS award-winning product suite[1] is built specifically for the perioperative environment and includes hospital and ASC-focused solutions covering perioperative Electronic Medical Records (EMRs), Anesthesia Information Management Systems (AIMS), ASC business management, and business intelligence and analytics solutions. Services include revenue cycle management to complement SIS's software solutions.
SIS is a 2021 Top Workplaces USA and an Atlanta Top Workplaces 2021, award winner, chosen based solely on employee feedback gathered through an employee engagement survey issued by Energage. For more information, visit SISFirst.com.
Media Contact
Emmy Weber, Chief Marketing Officer, Surgical Information Systems, Eweber@SISFirst.com
[1]Black Book Research Rankings – "Top Technology Solutions: Ambulatory Surgical Centers" March 2021, "Top Technology Solutions: Ambulatory Surgical Centers" February 2020, "Top Technology Solutions: Ambulatory Surgical Centers" April 2019, "Top Ambulatory Electronic Health Records Solutions: Ambulatory Surgical Centers" April 2018, "Top Electronic Medical Records/Electronic Health Records Vendors" April 2017, & "Top Ambulatory Electronic Health Records Vendors Comparative Performance Result Set of Top EHR Vendors," May 2016.
SIS, the SIS logo, and Surgical Information Systems are trademarks of Surgical Information Systems, LLC. Other company and product names may be trademarks of their respective owner.