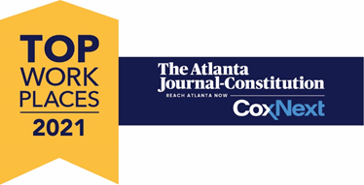 ATLANTA – March 19, 2021 – Surgical Information Systems "SIS" has been awarded a Top Workplaces 2021 honor by The Atlanta Journal-Constitution. The list is based solely on employee feedback gathered through a third-party survey administered by employee engagement technology partner Energage, LLC. The anonymous survey uniquely measures 15 culture drivers that are critical to the success of any organization: including alignment, execution, and connection, just to name a few.
"During this very challenging time, Top Workplaces has proven to be a beacon of light for organizations, as well as a sign of resiliency and strong business performance," said Eric Rubino, Energage CEO. "When you give your employees a voice, you come together to navigate challenges and shape your path forward. Top Workplaces draw on real-time insights into what works best for their organization, so they can make informed decisions that have a positive impact on their people and their business."
SIS is the industry leader for business and clinical surgical software for ambulatory surgery centers (ASCs) and hospitals. Headquartered in Alpharetta, Georgia, SIS employs more than 350 associates worldwide. "The Atlanta area is home to many high tech and healthcare-focused businesses which leads to a vibrant culture of innovation that embodies the spirit of the SIS team," said Tom Stampiglia, President and Chief Executive Officer of SIS. "Our employees are dedicated to delivering on their commitments to our clients, our shareholders, and each other and that has never been more evident than over the past year. This honor underscores that commitment and showcases our associates who are the strength of our company."

About Surgical Information Systems
Since 1996, Surgical Information Systems ("SIS") has been dedicated to providing surgical care providers with the solutions and services they need to deliver improved operational, financial, and clinical outcomes.
Focused exclusively on perioperative IT, the SIS award-winning product suite[1] is built specifically for the perioperative environment and includes hospital and ASC-focused solutions covering perioperative Electronic Medical Records (EMRs), Anesthesia Information Management Systems (AIMS), ASC business management, and business intelligence and analytics solutions. Services include revenue cycle management to complement SIS's software solutions.
For more information, visit SISFirst.com.
Media Contact
Emmy Weber, Chief Marketing Officer, Surgical Information Systems, Eweber@SISFirst.com
[1]Black Book Research Rankings – "Top Technology Solutions: Ambulatory Surgical Centers" March 2021, "Top Technology Solutions: Ambulatory Surgical Centers" February 2020, "Top Technology Solutions: Ambulatory Surgical Centers" April 2019, "Top Ambulatory Electronic Health Records Solutions: Ambulatory Surgical Centers" April 2018, "Top Electronic Medical Records/Electronic Health Records Vendors" April 2017, & "Top Ambulatory Electronic Health Records Vendors Comparative Performance Result Set of Top EHR Vendors," May 2016.
SIS, the SIS logo, and Surgical Information Systems are trademarks of Surgical Information Systems, LLC. Other company and product names may be trademarks of their respective owner.