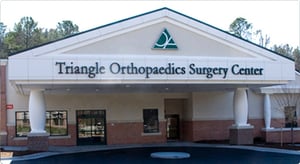 Howard Mullins, RN, CASC, is administrator/chief nursing officer of Triangle Orthopaedics Surgery Center in Raleigh, N.C. The single-specialty ASC opened and went live with both the AmkaiCharts electronic medical records system and AmkaiOffice business management system in late February 2013.
Q: Why did your ASC select AmkaiCharts and AmkaiOffice?
Howard Mullins: AmkaiCharts was already chosen as the EMR software when I joined the ASC during its development in October 2012, but it definitely would have been on my short list of EMR systems to consider, primarily because of how it integrates with AmkaiOffice.
As for AmkaiOffice, it is such a comprehensive system and has so much to offer ASCs. I knew an EMR that integrated well with AmkaiOffice would benefit us in the long run in light of the vast reporting capabilities of AmkaiOffice.
Q: What made AmkaiOffice stand out to you over other administrative systems?
HM: Definitely the reporting capabilities. The customization you can do with reporting is extremely beneficial. I can customize any report to receive the exact information I was looking for. That's rare.
It's also very user-friendly. There's a very short orientation process associated with it and it doesn't take long to train someone to be able to use the system, especially on the billing side.
The ease of use is greatly appreciated whenever you're adding systems to a "from-scratch project" like ours because we had enough to worry about with everything else that was going on in developing the ASC. We surely didn't need to spend time concerned about our business management system.
Q: What do you appreciate about AmkaiCharts?
HM: First and foremost is its integration with AmkaiOffice.
Second is the ability to run reports from both AmkaiOffice and AmkaiCharts. What typically happens when you try to get information from an EMR that doesn't interface with the billing software is that you can't run a report. That's not the case with AmkaiOffice and AmkaiCharts; even with information that's not shared between the two programs, I can still run a report using data captured in AmkaiCharts. This is an unbelievable time saver, and very helpful since some of the reporting and benchmarking we do has little or nothing to do with financials.
Like AmkaiOffice, AmkaiCharts also has tremendous ease of use. If it had been a difficult software to navigate and a difficult platform to use, it would have been almost impossible for us to go live with the EMR when we opened. There's definitely no other EMR software out there I would want to start a facility from scratch with.
Q: What do you see as the benefits of an EMR over paper charts?
HM: There's a noticeable and significant difference between the two. Compliance with completion of charting in an EMR is much easier. AmkaiCharts has made it really easy for physicians, too, which is great. There are just two sections of the chart that they have to focus on; they don't have to worry about anything else. It's not like a paper chart physicians have to flip through, trying to find the one page they need to sign. With AmkaiCharts, they just go to one of two ribbons (perioperative records) and do what he needs to done.
Q: How else does the benchmarking functionality in the systems help your ASC?
HM: It seems like every day I figure out something else I can report on or gather information from in AmkaiOffice and AmkaiCharts. All of the information is there at my fingertips. I can't think of one time where I had to manually go in and find the information for any benchmarking opportunity.
As we move toward transparency, this functionality will make it much easier, especially when we want to compare ourselves with other hospitals and ASCs. It's benchmarking made easy. And it's not a difficult process. We never have to wonder about how we're performing in an area because we know: the systems ensure everything that needs to be documented is documented, and everything that is documented you can get benchmarking data from.
Q: How do the systems help with efficiency?
HM: This goes back to how easy they are to use. Until you actually start to use the system, you won't realize how well they were designed for an ASC's workflow. The way the ribbons are set up, the way the documentation is set up — everything is designed to make the workflow go smoothly.
We're definitely seeing improved efficiency throughout the ASC. One of the biggest places I see it is with consents — consents for the procedure, consent for anesthesia, etc. We're able to quickly look at the charts to see if there are any missing consents, any missing documentation or anything that is incomplete. From a compliance perspective, that's great.
Q: How do the systems help with cost savings?
HM: It's impossible to calculate the time — and therefore the cost — of searching through a stack of paper for something in a chart when you can do a quick search within the EMR and find the information immediately. It's with staffing costs where you save most of your money and you get the most return on your investment.
Q: What has been your experience working with the AmkaiSolutions team?
HM: The implementation team was absolutely wonderful. They came on site and were here for our first three days and really made sure the systems worked but worked well for our specific needs.
The team recently came back after we did an upgrade. We had some follow-up questions for them not long after they left; as soon as they got off the plane, they were responding to us. That's impressive service.
There's never a delay in response time. The client service group addresses our questions quickly and keeps us in the loop when they need a little time to look into an issue. You never feel like you're waiting on them to get back to you because they get back to you very quickly.
As a new center, we don't have a lot of free time and everyone here is extremely busy. When I have a question, I always want to know that someone is on the other side trying to fix my problem.
Knowing that after purchasing the systems and having them implemented I can still send a question and get a response back in a timely manner makes a huge difference. I definitely don't feel like I'm ever on my own with AmkaiSolutions.