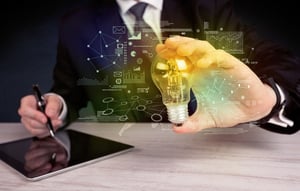 Daren Smith, RN, BSN, is a clinical solution specialist for AmkaiSolutions and Surgical Information Systems. He will be serving on a panel discussing "Healthcare IT: Ideas and Solutions for ASCs" at the Becker's ASC 23rd Annual Meeting: The Business and Operations of ASCs. The panel is scheduled for 1:25-2:05 p.m. on October 28.
Q: What are examples of some inefficiencies in ASCs that can be resolved through the use of information technology (IT)?
Daren Smith: Most inefficiencies arise when ASC staff members are performing tasks outside of their training, expertise and certifications. IT solutions are designed to help ASC staff focus on what they are trained to do as opposed to performing administrative and clerical tasks that are time consuming and costly.
For example, compiling a paper chart requires a dedicated resource to physically assemble each chart for the day, which depending on your case load can take hours. With an IT solution, this process can be automated, giving you the ability to better utilize your staff.
Furthermore, nurses often need to shuffle through and rearrange paper documentation during a procedure, which can distract them from their number one priority, the patient. AmkaiSolutions analyzes your ASC's workflow to effectively automate your processes so your nurses can give more attention to patients and spend less time pushing paper.
Documentation can also be automated for physicians as well. Physician's often need to write out the same orders and notes for many procedures. With an IT solution, common orders and notes can be templated and automatically pull in specific information from the patient's chart with just a click, helping improve efficiency and compliance.
That's the overarching subject matter we'll be discussing at the Becker's meeting: how we can take IT and use it to make healthcare more efficient. My goal will be to explain how IT solutions, such as those offered by AmkaiSolutions, can automate processes to make sure everyone has the time they need to do the work that cannot be performed by an IT system, including the personalized delivery of care.
Q: If an ASC is still performing most of its documentation using paper, how can it begin the transition to electronic solutions without staff feeling overwhelmed?
DS: Take baby steps! You will probably want to start by automating scheduling, human resources and billing processes.
Then, once you're comfortable with that level of automation, graduate and start talking about adding a fax server. This is not a fax machine pushing out paper; rather, it accepts and reproduces faxes as a digital image.
Then it's a good time to begin discussing electronic health records, such as AmkaiCharts, and learn how you can automate the clinical side of your operations — the documentation of care your ASC provides.
Q: What is a good strategy to take to help bring physicians on board with moving from paper to electronic documentation?
DS: For ASC physician owners who may be hesitant to begin such a transition, it is important to remember that physicians are analytical. They are accustomed to using research to make their clinical decisions.
The better you can present your business and clinical case in an analytical format, the easier it will be for your physicians to grasp the argument you are making.
Show them the return on investment (ROI): What jobs and tasks are you paying for now that could be automated? Show them the immediate and long-term ROI of switching manual to automated processes. You can use AmkaiSolutions' ROI calculator to support those efforts.
Q: How does AmkaiSolutions work to help ASC clients make the transition?
DS: We take a consultative approach to the process. We don't just hand the ASC software and a manual and say "good luck". With robust systems like ours which are designed to automate most of your ASCs operations, there's a continuous learning and building process. Our client success team works with clients to help them make those baby steps — and the steps that follow — as easy as possible.
In the beginning, we work hard to make sure our solutions are taking care of the critical processes the ASC is looking to automate and improve. During the initial go-live phase, everyone is focused on getting the system up and running. Maximizing the unused features to further improve an ASC's efficiency is a topic to broach once you reach a comfort level with the basics. It really is a continuous learning process, and one our clients find rewarding.