How has the ASC market changed over the years and where is it headed in the near future? In this Q&A, Todd Logan shares his thoughts, observations, and predictions around our evolving industry and advancements in ASC technology.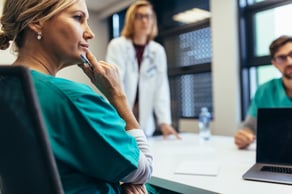 Surgical Information Systems (SIS) recently announced the promotion of ASC industry veteran Todd Logan, MBA, CASC, from Senior VP of ASC Sales to Chief Growth Officer. In this new role, Todd is responsible for all SIS field sales activities and is the company's executive liaison for its largest corporate clients.
In this Q&A, Todd shares his thoughts on how the ASC market has changed during his time in the industry, how the industry is positioned going forward, and ways ASC technology is evolving and helping today's surgery centers improve all aspects of their operations.
Q: You're entering your third decade in the ASC industry. What do you consider to be some of the most significant changes you've witnessed?
Todd Logan: Looking back, it's the resilience of the industry that has been most remarkable. I can't remember a time that I've been as optimistic about ASCs as I am now. There are many reasons for my optimism. Not only is there a tremendous macro demographic tailwind with the silver tsunami, as the population ages and requires more surgical interventions, but more importantly, more payers are understanding the site of service cost savings that can be attained by directing patients to surgery centers.
Contrast that to the economic downturn that began in 2008 where the tone was decidedly different. During that financial tumult, surgeons and ASC developers had difficulty getting credit to open new centers. The even greater threat to ASCs at that time was the trend of freestanding centers becoming hospital outpatient departments (HOPDs) to receive the more favorable reimbursement. Now hospitals and health systems are increasingly looking at how they can convert their HOPDs to ASCs. That's quite a shift.
Q: How do you think the industry is positioned for the future?
TL: There are certainly macro trends positioning the ASC industry for success, but also playing a key role are the technological advances enabling more complex treatments to be performed in the ASC. We've all witnessed the rise in more complex spine and orthopedics procedures over the past decade. Now we're seeing the same in total joints and cardiology. I suspect other services that have been predominantly performed in the hospital will follow the same path of migration to ASCs.
Q: Much of your work at SIS is supporting some of SIS's largest corporate clients. How is their role in the industry and their needs evolving?
TL: Working with complex organizations is a privilege and one part of my role that I particularly enjoy. That said, whether an ASC is owned and managed by a large corporate organization, a hospital joint venture, exclusively physician-owned, or any other model, I don't see a lot of differences in how they approach operations. What I mean by that is irrespective of their ownership structure, all ASCs share the same core business goals of being a focused team that provides exemplary patient care with great outcomes and does so more efficiently than a hospital or HOPD.
Where the needs are a little different in multi-ASC organizations, whether just a few or a few hundred surgery centers, is that there is a need for aggregation of data to provide standardization across facilities. Within some of the organizations that operate multiple centers, there is also the need for workflow tools to assist in managing functions such as standardized month-end processes, central billing office functions, and clinical care delivery.
Q: How has the role of ASC technology changed over the years?
TL: There is a saying that healthcare technology lags other industries by a decade, and I've always contended that ASC technology lags other healthcare entities by a similar duration. That said, we're finally seeing an acceleration of technology adoption to reduce that gap.
One example of this is in electronic health records (EHRs). ASCs did not experience the same external factors for EHR adoption that hospitals or physician offices did with the "meaningful use" legislation of the early 2000s. So many organizations had such a negative experience with EHRs at the hospital or physician office that they were justifiably skeptical about adopting an EHR in the ASC.
Fast forward 15 years and we're seeing an 80% adoption rate of new ASCs opening their doors with an EHR. These ASCs have realized that allocating square footage to storing paper is a poor investment. Furthermore, performing labor-intensive processes such as assembling chart packs, doing manual chart audits, and calling patients for the pre-surgery screening are becoming increasingly expensive as wage increases are accelerating.
In addition to the efficiency that typically comes with using technology, all of us as consumers of technology are also expecting a certain level of automation. I know I only go to a coffee shop where I can order ahead, or only go to a physician where I can access my health record online. ASCs are increasingly realizing that if they aren't providing patients with the ability to fill out their health history online or offering electronic estimates and payment options, they are projecting a very outdated image — one that is often contradictory to the type of advanced care they are providing. In addition, I've had ASC operators tell me that clinical staff, including surgeons, are expecting an EHR since they have never used paper documentation in their careers.
Q: What is technology helping ASCs do better or now allowing them to do that they couldn't do before?
TL: As data tools become more sophisticated, it's really rewarding to walk into one of our ASCs and see that they can push a button and review a bar graph comparing what multiple surgeons cost to perform the same procedure, broken down by supplies, implants, and medications. That level of insight hadn't been possible until recently, and it's incredibly helpful in payer negotiations to ensure fair reimbursement for cases being performed.
Another technology SIS has invested in heavily is mobile, for surgeons as well as patients. For surgeons, it's great to hear how much they appreciate the ability to go on their smartphone and not only see their schedule, but also review all relevant patient information and review and sign orders, operative reports, and other required case information. This is such a tremendous improvement compared to the paper-based system for completing documentation that can sometimes take weeks after a procedure has been performed, especially if the surgeon doesn't perform cases at the ASC regularly.
For patients, many want to fill out their health history and receive instructions on their smartphone. Being able to provide patients with an estimate of their out-of-pocket expenses is a must in today's age of rising deductibles. Patient financial responsibility has increased significantly in recent years, with patients even becoming the largest payer category in some ASCs. That's undoubtedly another of the biggest changes I've witnessed during my time in this industry.