For surgery centers looking to enhance facility productivity, strengthen physician workflows, and improve documentation compliance, SIS Charts Physician Mobile can deliver the modern-day clinical documentation conveniences they desire.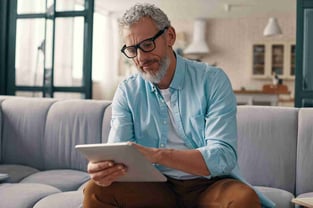 SIS Charts Physician Mobile, a component of SIS Charts, the award-winning ASC electronic clinical documentation solution, grants physicians easy, on-to-go access to the SIS Charts platform directly from their smartphone, tablet, or computer, saving time and resources for ASCs.
With its intuitive design and comprehensive capabilities, the SIS Charts Physician Mobile application makes clinical documentation easier by providing convenient access to case details, attachments, operative notes, and more, which automatically flow into the SIS Charts EHR – helping to improve patient safety by keeping the focus on the patient, not the documentation.
Let's look at five of the reasons an ASC should consider implementing SIS Charts Physician Mobile at their facility.
1. Easy to setup and quickly implement
SIS Charts Physician Mobile is included with a SIS Charts subscription and uses the same configurations as SIS Charts, making implementation a breeze. Since the mobile documentation workflow is consistent with the SIS Charts EHR, there is little to no learning curve or training required.
2. Provides cloud-based benefits
Today's ASC technology is quickly moving away from clunky applications that take up space and require regular updates and moving towards cloud-based platforms that provide increased accessibility and reliability.
SIS Charts Physician Mobile is cloud-based — not a native application — which means that it can be accessed by any browser and doesn't depend on a specific operating system or brand of mobile device. All users need is a device with access to an internet browser (e.g., smartphone, tablet, laptop), and the facility-specific Physician Mobile URL that their trained SIS support specialist provided upon implementation. With this unique URL, staff can securely access SIS Charts Physician Mobile using the same username and password that they use in SIS Charts, avoiding the hassle of juggling multiple credentials.
In addition, ASCs won't have to worry about device security management for HIPAA compliance since the data will not be stored on the device or in the mobile application.
Bonus: Because it's not a native app, there's no app download required and no need for inconvenient app updates to stay on the current version!
3. Offers convenience and expedites the daily workflow
As mentioned, the SIS Charts Physician Mobile application provides access to the SIS Charts clinical desktop via any smartphone, mobile device, or tablet the physician prefers to use, as long as they have a secure connection to the internet. Easy to use, the application puts the critical details physicians need to know about past, present, and future cases at their fingertips and offers productivity-enhancing technology such as over-the-shoulder sign-off and real-time schedule updates.
4. Enhances preparedness through case detail availability
With mobile access to their schedule, case attachments, and documents, physicians can review case details before surgery and ensure they're best prepared for the procedures ahead. On the day of surgery, they can track their patients' location and progression through the ASC, and any updates to their schedule are shown in real-time — available on whatever device they're using.
5. Improves compliance with chart completion
Within SIS Charts Physician Mobile is an especially convenient feature: the "unsigned items tracker." This feature allows physicians to remotely view, reconcile, and sign off on any outstanding items due to the surgery center, including operative notes, orders, case attachments, medication reconciliations, and consents, thus eliminating the need to travel to the facility to complete pending work. They can add addendums to any op note, regardless of where they decide to access the EHR.
Even with this convenience, busy physicians may still overlook their outstanding items or simply forget to check the unsigned items tracker. To assist with this, SIS Charts Physician Mobile sends out text message reminders directly to the physician's phone.
---
Expanding Your Expectations for ASC Software
Designed specifically for fast-paced, procedure-driven ASCs, SIS Charts does more than just replace inefficient paper charts — it supports the delivery of safe patient care by communicating patient information in near real-time. SIS Charts Physician Mobile is available to all SIS Charts and SIS Complete users.