Surgical Information Systems is the leading provider of ambulatory surgery center software, including patient engagement solutions for surgery centers. Many features of SIS solutions connect patients and clinicians through smart technology solutions that help enhance efficiencies, communications, care coordination, and outcomes.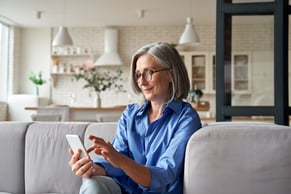 Research shows that patients are looking for convenience. Fast and easy communication is invaluable and becoming increasingly vital to ASC business success. You may find yourself saying, "Will patient engagement tools really improve my ASC's operations?" or "Why now if we've been doing fine for years?" Rest assured, patient management and engagement tools can make a big difference for your patients, physicians, and staff.
"We've set up our SIS Exchange preferences to text and email patients upon scheduling, and then on a daily cadence until they complete their documentation. Once completed, the information automatically flows back in for our preadmission testing nurse to review. It's a really good time saver for those nurses who, in the past, have spent a lot of time on the phone."
From the moment patients are scheduled for their surgery at your ASC, smart technologies — such as SIS Complete, SIS Charts, and SIS Exchange — can be used to establish and maintain a clear line of communication and inform patients of what's to come before, during, and after their procedure. Such communication better ensures patients arrive at your surgery center on time and ready for their surgery while also helping your nurses spend less time on the phone and more time in front of patients.
Role of Smart ASC Technology for Patient and Caregiver Support
Here, we highlight opportunities at four stages of the surgical journey where smart technology can help strengthen your ASC's operations and patient satisfaction.
1. Pre-Operative: Registration Questionnaire
When ambulatory surgery centers use an online pre-admission registration process, patients can enter their demographics, health history, allergies, medications, and other request information through a secure portal that delivers the information directly to nurses in real-time. With configurable ASC technology, a surgery center gains the flexibility to create a health questionnaire that meets their exact needs while patients gain the convenience of managing their registration process when and where they choose. This often leads to more thorough and accurate data input.
2. During Surgery: Patient Tracking
No one wants to be left uncertain of their loved one's status while they are undergoing surgery. A HIPAA-compliant patient tracking board placed in a waiting room can help keep family and friends informed of the patient's progress throughout the surgical event. This means less time required of staff to speak with visitors and make potentially disruptive calls or visits to the nurse's station and operating room for updates. It also means more time for staff to focus on other important tasks that support the delivery of safe, high-quality surgical procedures.
"From the moment we implemented the patient tracking board in our waiting area, we saw immediate benefits. It has significantly reduced the frequency of family members and friends asking our front desk staff for updates on patient status because they can visually see their loved one's progress through the surgical event. Patient satisfaction has increased since family members experience less stress and uncertainty."
3. Post-Operative: Discharge Caregiver Notifications
In the event that a patient's caregiver cannot be in the waiting room during surgery, this can make coordination between parties more difficult and add stress to what is likely an already stressful situation. Patient drop-off and pick-up need to be organized, and progress through the surgical event needs to be communicated to aid in a successful discharge and overall experience. Using an ambulatory surgery center software that's able to notify caregivers via text message as the patient moves through their surgical journey can be transformative, especially when waiting rooms remain closed to visitors or when caregivers desire to wait outside of the ASC.
4. At Home: Post-Op Instructions
Though your patient is safely at home, the post-operative journey is not quite over. Ensuring that your patient has easy access to their post-op instructions makes a difference in their experience and your commitment to delivering a safe and successful procedure. Even when patients are provided hard copies of their post-op instructions before the procedure and/or at discharge, these instructions can be misplaced.
Smart technology can make sure the loss of these instructions does not affect surgical recovery. Providing patients with an easy means to electronically access the information can be a game-changer.
The Right ASC Technology Will Help You Operate Smart
In the workflows intended to secure patient engagement, there are pivotal times where repetitive and/or time-consuming administrative duties can be automated, thus relieving nurses and staff of mundane tasks. This is where technology helps you Operate Smart. Smart technologies are flexible enough to be configured by specialty and powerful enough to complete work quickly and cost-effectively. They help ambulatory surgery centers better control costs and improves efficiencies through reducing staff workloads, saving pre-op nurses' time, and freeing up time for critical tasks that should or must be performed manually. Furthermore, web-based patient engagement solutions empower patients to become more involved in and take more control of their healthcare.
Surgical Information Systems: Streamlining ASC Patient Interactions
Using an ambulatory surgery center technology solution like those from SIS that offers convenience for patients, delivers efficiency for staff, and prioritizes accuracy and automation of patient data can transform the way an ASC manages and engages with its patients and their caregivers. Perhaps the best part of using SIS solutions is that when patients walk through the doors of your surgery center, staff have more time to engage in meaningful conversations that support a more satisfying patient experience and help improve outcomes.
Want to see what SIS solutions can do for your ASC? Schedule a demo today!