Ambulatory surgery centers (ASCs) are using SIS Analytics to track their key performance indicators (KPIs), drill into their metrics, and strengthen their operational performance through actionable insight.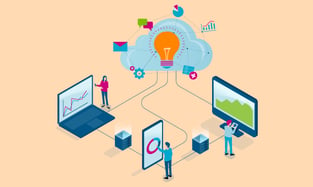 Ongoing monitoring and assessing of your ASC's performance is essential to identifying opportunities to improve operational efficiencies, enhance revenue growth, and achieve quality clinical outcomes. But without technology capable of tracking and displaying your center's performance data, this becomes almost impossible — or highly frustrating, at the least.
SIS Analytics — a cloud-based business intelligence tool specifically designed for ASCs — breaks down the wall between you and the detailed data you can use to drive your facility's operational efficiencies. Displayed in a format that's easy to understand and act upon, SIS Analytics compiles your ASC's key performance indicators (KPIs). It delivers the most current data to help your staff visually and dynamically identify trends and make better-informed decisions for your ASC's financial and operational health.
Here are four areas of an ASC's performance that can be improved by using SIS Analytics, broken down into two categories.
Case Costing
Case costing — the manner in which you calculate the direct and indirect costs of a surgical procedure — is a critical process for ensuring an ASC's cases — as well as the facility as a whole — remain financially viable and successful. The case costing process allows an ASC to forecast its budget more accurately, determine profit margin, and provide a clear view of expenses year over year.
By using analytics to calculate case costing data, an ASC can identify the expenses associated with each procedure performed and then use that information to determine where adjustments need to be made. This includes areas such as:
Surgeon behavior. With case costing, you're able to outline cost differentiators between variables. For example, when you're able to track your surgeons' preferred supplies and devices, you can also determine the resulting profit margin. Suppose you have multiple surgeons performing the same procedure that requires the same type of implant, but the surgeons use devices from different manufacturers that are vastly different in price. Such a scenario is an excellent opportunity to use SIS Analytics to drive change through case costing. Compile the cost differences and resulting profit margins, and then present the data to those surgeons using more expensive implants to show how their surgeries are much less profitable due to the cost of their preferred implants.
Highly profitable procedures. Performing more procedures doesn't always mean making more money. In fact, some procedures can lose an ASC money if reimbursement comes in below the cost to perform the surgeries. Access to case costing data can reveal which cases are profitable and which are not as well as which are the most profitable. Using SIS Analytics to track this information, you can put more effort into increasing the number of those procedures performed. Without analytics technology to determine your case costs and profitability, identifying the need for taking such actions will prove much more difficult.
Operational Efficiencies
While the financial success of your center is a clear priority, the patient experience is also a crucial factor that can directly and indirectly affect your overall performance metrics. And there can be some surprising details hidden in the data as well! Things such as:
Wait time. How much of the patient wait time in your facility is necessary? Do you know how often procedures have late start times? If there's a large amount of unnecessary waiting, this could indicate that you need to review the scheduling of procedures. You can take this data further: Is there an identifiable correlation between wait times and your patient satisfaction scores?
Cancellations. It can be easy to overlook the data that can be gathered before a patient checks in for their procedure, but you shouldn't. Do you know your cancellation rates? More than that, do you know the causes for your cancellations? ASCs are using SIS Analytics to track how many cases are canceled due to reasons attributable to the patient, surgeon, or complications at the center. Then, take it a step further: What percentage of patients that completed their pre-admission paperwork before the appointment time make up your cancellation rates? If you find a clear correlation between patients who did not complete paperwork and patients who cancel, you can investigate why they aren't completing it and what you can do to resolve that.
Many, Many More Ways to Use
SIS Analytics
This post just scratched the surface on the various ways ASCs are using SIS Analytics to identify and make data-driven improvements. With role-based dashboards, an easy-to-understand graphical user interface, and industry-standard KPIs, SIS Analytics helps ASCs capture and drill down into metrics and uncover the root causes of financial, operational, and clinical performance. Schedule a demo of SIS Analytics for ASCs today!