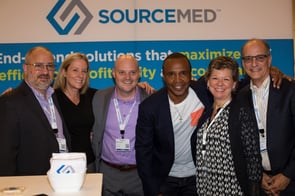 Last week Becker's hosted its 23rd Annual Meeting: The Business and Operations of ASCs. This event, held in Chicago, is a must-attend for business and clinical leaders in the ambulatory surgical center (ASC) market, as well as for companies that develop solutions and services for ASCs. An added bonus this year was excitement about the World Series happening in town, plus sports luminaries such as Sugar Ray Leonard and Pat Riley who spoke at the event and visited with attendees in the Exhibit Hall.
Over 100 educational sessions covered diverse topics, all designed to help ASCs thrive amid a changing environment. Below, four SourceMed leaders share their thoughts on key themes they heard at the meeting and the takeaways for ASCs.
Ann Geier, MS, RN, CNOR, CASC, Chief Nursing Officer:
Becker's is always a dynamic meeting: you can feel the energy everywhere you go. The common themes that I saw involved adding total joints and spine (which has already moved to ASCs), bundling and reimbursement, leadership, and making and keeping ASCs profitable. The attendees were industry leaders, including many physician owners. The sessions I attended were almost totally freestanding ASCs, with very few HOPDs represented. Some were JV'd with hospitals, but not many. Attendees were interested in vendors that could help them save money, work more efficiently, and get reimbursed at higher rates. SourceMed is well-positioned to help with these.
Walter Groszewski, Vice President of Professional Services:
Many of the discussions focused on the ASC revenue cycle, specifically bundles. The importance of payer contract negotiations was also a hot topic. I think one of the speakers said it best: "Don't put a contract in place for the sake of being in-network. You can send a bad message to the payer. 1+1 can equal -10."
Mike Troppe, Vice President of National Accounts:
I heard a lot of discussions on mergers/acquisitions and partnering. Centers are looking to forge relationships with hospitals and/or management companies when it can help them gain leverage on supply costs, reimbursements and contract negotiations. There are other gains related to having staff support for activities like infection control, and other experts to support the facility and not solely rely on the ASC staff to be knowledgeable about many topics.
Matt Courtney, Account Executive:
Successful adoption of Information Technology (IT) is of great importance to the success of an ASC. The adoption of new IT is not something that happens overnight, nor is it something that is done without facing certain challenges. Keys to adoption include:
Maintaining relationships with key IT vendors
Identifying internal stakeholders who will promote adoption among staff members
Planning implementations in phases
In-depth, thorough training
Planning and implementing on-going training on a quarterly basis. Staff members come and go, so receipt of official training from IT vendors is preferred rather than "tribal knowledge" training from veteran staff.
ASCs should work to find vendors they can trust. The development of this trust is a key component to the success of an ASC. Real value is achieved when an ASC and vendor establish and view their relationship as a partnership rather than a vendor/client relationship. The success of each company is heavily dependent upon these partnerships.
If you attended the meeting, what were your main takeaways?