100% of SIS clients would purchase SIS Charts again | Clinical documentation solution for ambulatory surgery centers receives high marks for ease of use, user satisfaction, and more in new report.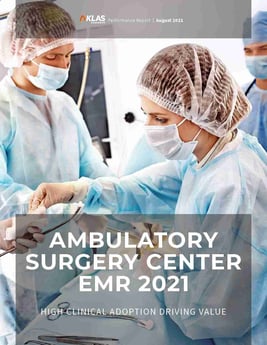 Alpharetta, GA – September 7, 2021 – Surgical Information Systems ("SIS"), the industry leader for business and clinical surgical software serving more than 2,200 hospitals and ambulatory surgery centers (ASCs), received top marks for satisfied ASC EHR users in the KLAS Ambulatory Surgery Centers 2021 report. As KLAS reports, SIS customers say that the cloud-based SIS Charts™ ASC clinical documentation solution — the most widely used ASC system — is easy to use and offers impressive flexibility in supporting ASC workflows across specialties. These are two of the reasons why 100% of interviewed SIS customers indicated they would purchase SIS Charts again.
The KLAS report gives SIS Charts top marks for:
Would you buy again
Overall satisfaction
Likely to recommend
Product works as promoted
Ease of use
Keeps all promises
Delivery of new technology
KLAS stated that SIS customers are selecting SIS Charts "based on a combination of cost and functionality," that "SIS EHR adoption is driven by how flexible and extremely easy it is to use and train new staff members on," and the EHR "scales without difficulty and can integrate with many external solutions."
"We are very proud of SIS Charts' performance in the latest KLAS report," said Tom Stampiglia, President and CEO of SIS. "We continue to see rapid adoption of cloud-based EHRs to support and accelerate the achievement of ASC clinical, operational, and financial goals. When you couple the results of the KLAS report with SIS being recognized as the #1 ASC EHR vendor for the last six consecutive years by Black Book1, it's clear why selecting SIS Charts is such an easy decision for ambulatory surgery centers."
The KLAS report notes that the migration of surgical procedures into ASCs is fueling the increased adoption of ASC EHRs, such as SIS Charts. Surgery centers indicate that EHRs are helping them to deliver better patient care, drive positive clinical outcomes, and grow case volume.
About KLAS
KLAS is a research and insights firm on a global mission to improve healthcare delivery by amplifying the provider's voice. Working with thousands of healthcare professionals and clinicians, KLAS gathers data and insights on software, services, and medical equipment to deliver timely reports, trends and statistical overviews. The research directly represents the provider voice and acts as a catalyst for improving vendor performance. Follow KLAS on Twitter and LinkedIn. Learn more at KLASresearch.com.
About Surgical Information Systems
Since 1996, Surgical Information Systems ("SIS") has been dedicated to providing surgical care providers with the solutions and services they need to deliver improved operational, financial, and clinical outcomes.
Focused exclusively on perioperative IT, the SIS award-winning product suite[1] is built specifically for the perioperative environment and includes hospital and ASC-focused solutions covering perioperative Electronic Medical Records (EMRs), Anesthesia Information Management Systems (AIMS), ASC business management, and business intelligence and analytics solutions. Services include revenue cycle management to complement SIS's software solutions.
SIS is a 2021 Top Workplaces USA and an Atlanta Top Workplaces 2021, award winner, chosen based solely on employee feedback gathered through an employee engagement survey issued by Energage. For more information, visit SISFirst.com.
Media Contact
Emmy Weber, Chief Marketing Officer, Surgical Information Systems, Eweber@SISFirst.com
[1]Black Book Research Rankings – "Top Technology Solutions: Ambulatory Surgical Centers" March 2021, "Top Technology Solutions: Ambulatory Surgical Centers" February 2020, "Top Technology Solutions: Ambulatory Surgical Centers" April 2019, "Top Ambulatory Electronic Health Records Solutions: Ambulatory Surgical Centers" April 2018, "Top Electronic Medical Records/Electronic Health Records Vendors" April 2017, & "Top Ambulatory Electronic Health Records Vendors Comparative Performance Result Set of Top EHR Vendors," May 2016.
SIS, the SIS logo, and Surgical Information Systems are trademarks of Surgical Information Systems, LLC. Other company and product names may be trademarks of their respective owner.