SIS & Amkai recognize client accomplishments at GO!2017 in Atlanta.
ATLANTA – March 22, 2017 – Surgical Information Systems ("SIS"), a leader in perioperative information systems announced the winners of the 2017 Perioperative Leadership Awards this week at GO!2017, the SIS and AmkaiSolutions joint client user meeting held in Atlanta. The user conference brings together clients, strategic partners, and industry leaders for three days of educational sessions and industry discussions. Recognizing leading organizations that exemplify the innovative use of healthcare information technology to advance perioperative operations, leadership awards were presented in two categories: hospital and ambulatory surgery centers (ASCs).
"
Our perioperative leader recipients
have set an example for how information technology can help improve healthcare and meet the challenges providers face in delivering quality surgical services
", said Tom Stampiglia, President and Chief Executive Officer of SIS & AmkaiSolutions. "
We are honored to recognize the winners for their drive to have a positive impact on financial, operational, and clinical outcomes at their facilities
."
Awards were given to the following organizations.
ASC: Mankato Surgery Center – Mankato, MN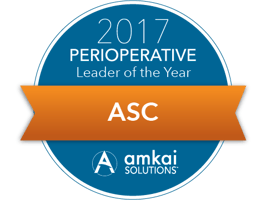 Mankato Surgery Center, a multi-specialty ASC approximately 90 miles
southwest of Minneapolis, received the ASC Perioperative Leader of the Year award. Since implementing Amkai ASC solutions, the team at Mankato has worked tirelessly to streamline their system's configuration to support efficiency and accuracy. With the help of the AmkaiOffice management solution, the Mankato team was recognized for excellence in inventory management that has led to increased efficiencies and reporting for their center.
Hospital: St. Luke's Hospital – Duluth, MN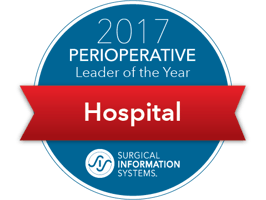 St. Luke'sHospital was awarded theHospital Perioperative Leader of the Year award for their use of SIS Analytics to proactively analyze their data to identify operational, financial, and clinical opportunities for improvement. Since implementing SIS Analytics, St. Luke's perioperative department has been able to improve performance with accurate data and drill-down metrics. They have also implemented key performance indicators that have allowed them to track their progress over time.
"The Perioperative Leadership awards are a highlight of the client meeting", said Stampiglia. "The energy level among these perioperative leaders as they learn from one another, share best practices, and work to continue to deliver great surgical care is inspirational and we are honored to provide perioperative solutions that support their efforts."
---
About Amkai
AmkaiSolutions™ is a trusted industry leader, offering innovative software solutions and services to the full spectrum of outpatient surgery providers- ambulatory surgery centers, surgical hospitals and associated practices and clinics. Our solutions help outpatient surgery facilities increase administrative and clinical efficiency and profitability, allowing them to focus on patient satisfaction. Our growing product line includes AmkaiCharts, the leading EMR in the outpatient industry and AmkaiOffice, a next-generation management software solution designed to replace and enhance the "legacy" systems in use today. The AmkaiSolutions team's extensive experience in the outpatient surgery industry positions us well to bring substantial new streamlining and added benefits to the market. AmkaiSolutions is a subsidiary of Surgical Information Systems. For more information visit amkai.com.
AmkaiSolutions, AmkaiEnterprise, AmkaiOffice and AmkaiCharts are trademarks of Amkai LLC. SIS, the SIS logo, and Surgical Information Systems are trademarks of Surgical Information Systems, LLC. Other company and product names may be trademarks of their respective owners.
---
About Surgical Information Systems
Surgical Information Systems (SIS) provides software solutions that are uniquely designed to add value at every point of the perioperative process. Developed specifically for the complex surgical environment, all SIS solutions—including anesthesia—are architected on a single database and integrate easily with other hospital systems. SIS Anesthesia was notably rated #1 in the anesthesia specialty report by KLAS and awarded the Category Leader Designation in the 2014 Best In KLAS Awards1. For more information, visit our website, SISFirst.com.
SIS, the SIS logo, and Surgical Information Systems are trademarks of Surgical Information Systems, LLC. Other company and product names may be trademarks of their respective owners.