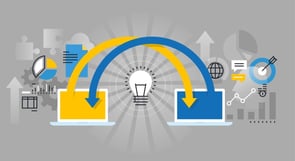 Healthcare is the business of healing. However, outpatient facilities must still operate as an actual business and remain profitable in order to keep the doors open. But the times are changing, and the way that the clinical, financial, and operational sides of healthcare – as well as the key stakeholders – intersect with each other must evolve as the volume-based fee system transitions into a value-based one.
For outpatient healthcare facilities, one thing is for sure: you have to be ready and willing to change, too, in order to remain viable, relevant, and above all, profitable. But this change doesn't have to be scary. By focusing on some relatively new advancements in system interoperability and data sharing, you can change your revenue cycle management (and your patient experience) for the better.
Over the course of several articles, we'll explore how you can strengthen revenue cycle management with this new world of digitized data. But let's start with the basics: what's changing.
The Old Way: Paper-Centric
The old way of sharing data is laborious, inefficient, and prone to error. In the old world of paper clips and file folders, if another physician or a payer needed information, the appropriate data and reports would have to be physically pulled from a paper file, copied, printed, compiled, and sent to the requesting party by mail or fax. It's an enormous, manual process (and time commitment).
What's the worst-case scenario for businesses that cannot share this data electronically? Increased cost and lost revenue. Not only does the cost of paper, toner, and supplies needed to organize files add up, but paper processing takes time, and human error can also play a part. Delays in documentation and inaccurate coding, for example, can greatly affect cash flow.
What's the worst-case scenario for a patient or a payer? Multiple unnecessary – or even conflicting – procedures or medications prescribed. Imagine a situation in which the same lab test is performed by the primary physician, the specialist, and the hospital, all because information couldn't be easily shared. At best, this inefficient process is costly and wasteful. At worst, it could be dangerous.
The New Way: Patient-Centric
Digital data sharing helps create a streamlined workflow between patient care and patient billing, which allows you to run your facility more efficiently and focus on the business of healing. Employees that used to spend their time manually processing paper for referring physicians and insurers can now use their valuable time to proactively work together and with patients.
Imagine someone from your team being able to connect with a patient to let them know the full cost of a procedure before they have it. In this scenario, providers would know the exact payment to collect from a patient up front, strengthening revenue cycle management from the outset and avoiding potential losses later on in the collections process. Instead of hearing, "I'm sorry, your insurance didn't cover this, so you now owe us $X," patients could begin treatment with a full understanding of their expected costs, allowing them to make more informed decisions. All because a staff member's time was freed to do the work of connecting rather than chasing documents.
Data and the Future
So what does the future of outpatient facilities look like thanks to digital data sharing?
No bulky paper records to store, copy, print, manage, pay for, and retrieve
Fewer medical errors and procedure duplication for improved patient safety and lower costs
Less time with charts and more time with patients
Fewer billing errors and increased charge capture
So why not embrace change? It's a big part of effective patient care and revenue cycle management. And in healthcare, data sharing is caring—for your patients, your staff, and your bottom line.
How does your facility share data to improve revenue cycle management and the patient experience?