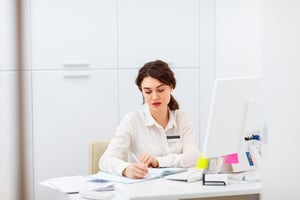 In a report published by Becker's ASC Review titled "4 Things Great ASC Administrators Do to Prepare for the Future," Michelle Dickison, regional vice president, operations, for ASC management and development company Meridian Surgical Partners, discusses the importance of ASCs investing now in new technology that is cost-effective and improves patient outcomes.
In the column, she is quoted as saying the following:
"You have to continually keep the balance between staying on the cutting-edge of technology and being cost effective. However, you can't just stay comfortable with what you're doing because technology is always changing."
Her insight directly applies to an ASC's investment in an electronic medical records system.
Cost-effectiveness
From a cost-effectiveness perspective, ASCs with an EMR have seen how it not only reduces costs, but also boosts profitability.
Ashley Walden, Business Office Manager for Pend Oreille Surgery Center in Ponderay, Idaho, observes, "Anyone on staff is able to pull records; it's all streamlined with the EMR. We don't need dedicated staff members in charge of filing, recordkeeping, etc. Time is money, and profitability comes from efficiency."
Howard Mullins, RN, CASC, Administrator/Chief Nursing Officer of Triangle Orthopaedics Surgery Center in Raleigh, N.C., notes, "It's impossible to calculate the time — and therefore the cost — of searching through a paper chart when you can do a quick search within the EMR and find the information immediately. When you switch to an EMR, staffing costs are where you save most of your money and get the most return on your investment."
For Stacey Ferguson, Clinical Director of Tri-State Surgical Center in Martinsburg, W. Va., the cost savings achieved by her ASC's EMR take a number of forms. "I can establish the correct par levels and decrease the amount of inventory I have on site because the system will tell me what I need based on my preference cards. I can run a report at any time to know how much money I have brought in this month and how much money I have spent this month. It's helped us manage our finances more easily because of the data that comes out of it. What was a two-person job before is now a one-person job."
Improved Patient Outcomes
ASCs throughout the country that have invested in an EMR have also seen the many ways it improves outcomes and quality of care.
As Joan Mckibben, Administrator of the Ambulatory Surgery Center of Somerset in Bridgewater, N.J., notes, "Our EMR program has a big focus on patient safety — with things like comprehensive advance directives, discharge instructions and allergies as required elements."
Linda Newton, Facility Administrator for The Surgery Center at Cranberry in Cranberry Township, Pa., says "The system is set up to ensure you do what you're supposed to do at critical points during a visit."
Steve Henry, Administrator, Surgery Center at Liberty Hospital in Liberty, Mo., notes, "Looking at from patient care perspective, with an EMR you do not have to fumble through charts for the data; you have it all right at your fingertips."
Want to find out more about what an EMR can do for your ASC? Schedule a demo of the #1-rated AmkaiCharts EMR today by clicking here!