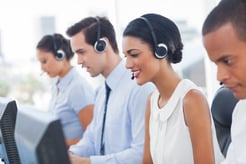 Jessica Nelson, Vice President of Revenue Cycle Services (RCS) for Surgical Information Systems (SIS), recently hosted a webinar where she discussed patient collections by ambulatory surgery centers, including the effects of COVID-19 on these efforts. The program covered the most common challenges associated with collections today, current patient collections best practices, and opportunities to improve existing patient collections and communications processes. With this information, ASCs can increase their likelihood of successfully collecting from patients without harming their reputation as a care provider.
The audience was highly engaged and asked many questions during and after the webinar. Below are the highlights, edited for readability. To watch the entire webinar, please visit the SIS Resource Library.
Q: During the pandemic, we relaxed our payment plan policies to allow patients more time to pay off their outstanding balances and have not yet gone back. Should we continue, or do you think it's time to go back to our former policies?
Jessica Nelson: I would suggest speaking with those members of your team who are regularly communicating with patients to learn if the number of conversations concerning financial hardship remains higher than the number of such conversations prior to the pandemic.
If the number of these types of conversations is declining or have returned to pre-pandemic levels, then I would recommend reverting to your previous policies or at least adjusting your policies to account for current trends. For context, many of the surgery centers supported by the RCS team have reverted at this point.
Q: We're considering a digital communication and payment strategy for our patient collections process. Will this help us collect more patient revenue?
JN: Yes. COVID-19 has greatly accelerated the number of providers embracing a digital communication and payment strategy and such options for their patients. Research has shown that about 60% of consumers now expect their digital healthcare experience to mirror that of a retail experience.
If you go this route, measuring the speed of payments received is a way to assess the success of your digital communication strategy. Our experience at RCS shows that, on average, what may have taken two statements for patients to realize that they still had a balance due for their surgery has declined to about one statement thanks to the use of digital communication and payment strategies.
To summarize, a digital communication and payment strategy can certainly help you collect more money. The bigger impact is probably your ability to get revenue in the door faster by giving patients the option to communicate with you electronically and pay online.
Q: If we were to select one key performance indicator (KPI) to monitor the success of our current patient collections strategy, which would you recommend?"
JN: Picking just one KPI is difficult, but I'd probably start with prior-to-service collections as a percentage of your overall patient collections and then focus on patient satisfaction with your overall billing and collection process. Selecting prior-to-service collections allows you to measure the success of your upfront collections strategy or place focus on that area if you're not doing so already. Additionally, improving the performance of this KPI will have downstream benefits to your revenue cycle. Establishing solid policies and procedures around prior-to-service collections should deliver improvements, such as reduced days in accounts receivable and lower bad debt.
Q: The more I collect upfront, the more refunds I am sending after insurance pays. Is this a good or bad thing?
JN: This tells me that you have taken all the advice out there and shifted your collections process to collecting as much upfront as possible. It is good to have credits as a result. However, I would suggest spending some time to determine the cause of the credits. Credits are often related to an incorrect fee schedule or a contract being used when patient estimates are created. This is a fairly simple adjustment to make either within your ASC software system by importing or attaching the correct contract or updating a calculator your verification team uses.
Another common cause of credits is when high deductible amounts are applied to patient estimates and are then collected by both the surgeon office and ASC. To reduce the likelihood of this occurring may require collaboration with your surgeons' offices around when the surgery center claim gets billed versus when the surgeon's claim is billed. Whoever is first should collect a higher percentage of the deductible up front.
While these aren't the only reasons credits occur, they are worth considering in your research. You can also solicit feedback from the team responsible for managing your credits, as they are often the first to spot trends concerning credits and may be able to share what could be the cause of this accounts receivable problem.
Q: I've never liked scripting. I think it comes across as "robotic." Any advice on how to use scripting and make it more human?
JN: The biggest piece of advice I have here is instead of writing your scrips out word for word, give guidance in the way of bullet points that include the type of information staff is expected to relay or can consider covering — if they believe it would be helpful — for various scenarios. This allows the representatives speaking to patients to be authentic in their communication style while better ensuring they cover all the important pieces and parts of the message being delivered.
Another best practice: practice, practice, practice. You can do so with roleplay scenarios or through coaching with live scenarios. With practice, patient communications will eventually start to become natural, skillful, swift, and steady.