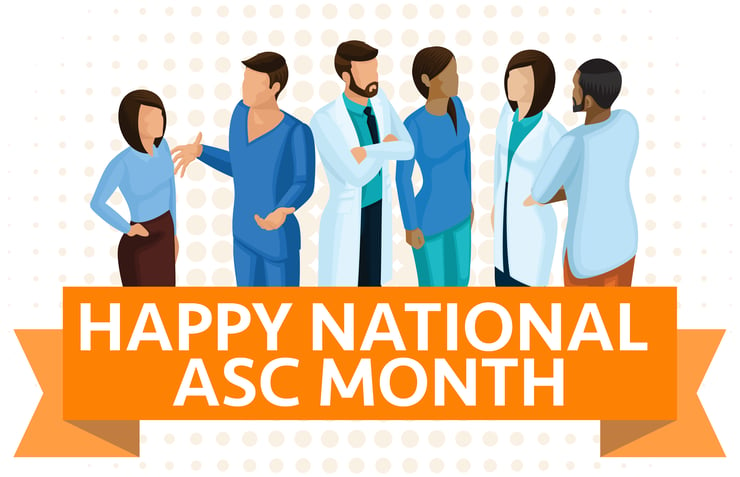 The conclusion of August brings with it the end of National ASC Month — a time designated by the Ambulatory Surgery Center Association (ASCA) to celebrate ASCs and the surgery center industry while raising awareness of the benefits ASCs provide to patients and the healthcare system.
We asked surgery centers throughout the country to share their thoughts on three questions concerning the importance of promoting ASCs. Many ASC professionals took the time to respond and shared great insight. A selection of responses is provided below.
Q: Why is it important for ASCs to promote awareness of their facilities and the role surgery centers play in the healthcare system?

Jennifer Bednarchik, Livonia Outpatient Surgery Center in Livonia, Michigan: I think raising awareness is huge. While ASCs have been around for a long time, many people are still unaware of them, what they do, and how well they do it. The patient population our ASC typically sees is elderly. Most of them grew up with hospitals. For some of them, the visit to our center is likely the first time they've ever set foot in an ASC. We need to be educating the public and letting them know they don't need to go to a huge campus to receive the same, if not better level of care as going to an 8,000-square-foot building on a corner like our ASC.
Kris Sabo, Pend Oreille Surgery Center in Ponderay, Idaho: ASCs have been and always will be good stewards of patient and payer healthcare dollars. Fiscally responsible and highly efficient centers will become the logical choice for elective and preventative procedures.
Julia Jordan, Muncie Cataract and Laser Eye Center in Muncie, Indiana: It is important for patients to have an alternative to the hospital. ASCs play a huge role in meeting the needs of patients.
Amanda Atkinson, The Surgery Center at Edgewater in Fort Mill, South Carolina: ASCs provide great, quality care at an affordable price.
Natalya Haddix, Southwest Surgical Suites in Fort Wayne, Indiana: There is an education gap between ASCs and the public. The public is generally unaware of the great alternative that ASCs can be compared to a hospital. We offer many benefits that aren't often attainable at a hospital, such as low-cost, high-quality healthcare; individualized attention; and lower post-surgery infection rates. The public should know what is available to them, so they have the power and independence to make the best choice for their needs.
Q: What can ASCs do to raise awareness of their facilities?

Bill MacKnight, Beltline Surgery Center in Sunnyvale, Texas: Surgery centers should be included in any marketing or public relations efforts undertaken by physician groups or associations. ASCs can get more visibility by participating in community healthcare activities and fairs. ASCs should support the efforts of their state and national associations to get the word out to legislators. ASCs should make efforts to reach out to local employers and participate in managed care networks touting the patient-centered quality of care at an affordable price. ASCs should publicize the results of quality measurement results and seek recognition through local and state organizations for efforts to improve care and costs. Finally, ASCs should let the local medical community and their referring physicians know about the results of patient satisfaction surveys.
Laura Picano-Wilson, Livonia Outpatient Surgery Center in Livonia, Michigan: ASCs can be proactive by inviting local and federal officials to take a closer look at their day-to-day operations, review quality studies that prove diligence to patient safety and witness the patient experience firsthand.
Tammy Stanfield, North Pines Surgery Center in Conroe, Texas: Engage surgeons to operate at our ASCs, which brings patients to our setting. Provide efficient, high-quality care with excellent patient and physician satisfaction. Word of mouth is our best advertisement.
Teresa Peters, Murrieta Valley Surgery Center in Wildomar, California: ASC leadership must get involved in local and regional entities. Connecting with quality experts and sharing experiences and knowledge builds a strong ASC network that is competent and capable. I would also encourage ASC leadership to engage with their local chambers of commerce.
Q: Through awareness-raising efforts, what do you hope communities learn about ASCs?

Theresa Harper, Middlesex Center for Advanced Orthopedic Surgery in Middletown, Connecticut: ASCs are growing in number and surgical outcomes are becoming transparent statewide. Individuals now have options that did not, until recently, exist for their surgical needs. ASCs are a safe alternative to those who qualify for an outpatient experience. We encourage patients to have conversations with their surgeons about whether an ASC experience is an option for them, tour the facilities, and speak with others who have had the ASC experience. Many of our new patients come to us through word-of-mouth referral from friends and relatives we have served in the past.
Melissa Hatcher, Nexus of Albany Surgery Center in Albany, Georgia: They offer a more down home feeling and a sense of one-on-one care.
Sharon Petruzzi, Susquehanna Surgery Center, Bloomsburg, Pennsylvania: That ASCs provide high-quality patient care in an environment that is much less foreboding than hospitals.
Kim Lighthouse, Gastroenterology Consultants of Savannah/Endoscopy Center of Coastal Georgia in Savannah, Georgia: ASCs provide a high-quality, cost-effective alternative to inpatient hospital care.
Joleen Harrison, Mankato Surgery Center in Mankato, Minnesota: As ASCs, we strive and commit to giving high-quality care and safety with a personal touch to all our patients. We follow stringent regulations, and every day we work at our compliance of the regulations to keep our patients safe and loved through every stage of care.
In Appreciation of ASCs
Every day, ASCs provide thousands of patients with high-quality, low-cost, and often life-changing procedures. SIS is proud of its longstanding support for ASCs and the ASC industry. We're fortunate to work with so many surgery centers and provide solutions and services that help them accomplish their clinical, operational, and financial objectives. Thank you for all you do. Keep up the great work!