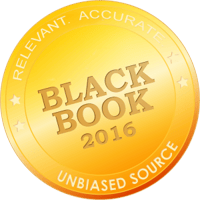 In a survey of over 8,000 physicians and clinical users of EHR systems, AmkaiSolutions ranked first among Ambulatory EHR vendors for customer satisfaction and loyalty.
August 22, 2016
– Amkai, a trusted industry leader in delivering comprehensive solutions to ambulatory surgery centers, today announced the results of the 2016 Black Book Ambulatory Survey. In the report,
Amkai was recognized as the top overall ambulatory surgical center EHR vendor
.
Black Book Market Research, a full-service healthcare-centric market research and public opinion research company, annually surveys Health IT users ranking from hospital executives, clinicians, and IT specialists to rank client loyalty and satisfaction with their EHR vendor. Of the 18 criteria used to develop the results, Amkai ranked first in ten demonstrating the company's commitment to delivering solutions that meet the unique needs of ASCs. Top scores for individual criteria included:
Strategic Alignment: MU1, MU2, MACRA

Training

Client relationships and culture fit

Integration and interfaces

Scalability, client adaptability, flexible pricing

Reliability

Marginal Value Adds

Data security and backup services

Support and customer care

Best of breed technology and process improvement
"Amkai is honored that our commitment to ASCs and the populations they serve has been validated through Black Book's survey," said, Tom Stampiglia, Amkai's President and CEO. "The transition to value-based care has proven that ASCs are ideally suited to meet healthcare's goals of improved patient experience and reduced costs. As ASCs continue to thrive and grow, we are dedicated to supporting their unique challenges with innovative solutions."
Over 8,000 clinical EHR users completed surveys for this year's Ambulatory EHR report. Data gathered is subjected to immediate internal and external audit to verify accuracy and ensure statistical confidence.
Amkai helps ASCs across the United States deliver improved financial, operational, and clinical outcomes through innovative software solutions and unrivaled customer service and support.
---
About Amkai
AmkaiSolutions™ is a trusted industry leader, offering innovative software solutions and services to the full spectrum of outpatient surgery providers- ambulatory surgery centers, surgical hospitals and associated practices and clinics. Our solutions help outpatient surgery facilities increase administrative and clinical efficiency and profitability, allowing them to focus on patient satisfaction. Our growing product line includes AmkaiCharts, the leading EMR in the outpatient industry and AmkaiOffice, a next-generation management software solution designed to replace and enhance the "legacy" systems in use today. The AmkaiSolutions team's extensive experience in the outpatient surgery industry positions us well to bring substantial new streamlining and added benefits to the market. AmkaiSolutions is a subsidiary of Surgical Information Systems. For more information visit amkai.com.
AmkaiSolutions, AmkaiEnterprise, AmkaiOffice and AmkaiCharts are trademarks of Amkai LLC. SIS, the SIS logo, and Surgical Information Systems are trademarks of Surgical Information Systems, LLC. Other company and product names may be trademarks of their respective owners.
About Black Book Research
Black Book Market Research is the parent group for Black Book Rankings, a full-service healthcare –centric market research and public opinion research company. Founded in 2002, the company today serves a wide variety of prominent national and international clients. Black Book Rankings offers complete quantitative and qualitative research services, excelling in the design of customized surveys and research approaches to meet specific client needs in healthcare, pharmaceutics, biomedical devices, managed care, health insurance, and technology.
Over the years, Black Book Rankings has become adept at understanding the unique needs and issues of the broad spectrum of the entire healthcare industry it serves. The company also has a special understanding of the unique survey research requirements for the industry's clinically, technologically and managerially diverse stakeholders. For more information, please visit blackbookmarketresearch.com.