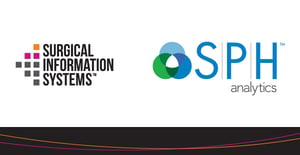 Turnkey solution positions SIS clients to meet upcoming regulatory requirements
Alpharetta, GA – April 10, 2018 – Surgical Information Systems (SIS), an industry leader focused on delivering perioperative IT to ambulatory surgery centers (ASCs) and hospitals, and SPH Analytics (SPH), the leading provider of patient experience solutions for the ambulatory surgery space, announced today a partnership that delivers an integrated solution for understanding and improving patient experience in ASCs.
SIS clients will have easy access to the Ambulatory Surgery Consumer Assessment of Healthcare Providers and Systems (OAS CAHPS®) Survey, as well as specialty-specific and general patient satisfaction surveys for surgery centers, all administered by SPH. These surveys will be enabled via an automated data interface with built-in logic to meet the requirements of the center's patient experience program and future government regulations.
Improving patient experience is a significant focus of health systems and the Centers for Medicare & Medicaid Services (CMS), the federal agency that oversees Medicare and Medicaid Services. Patient experience measures can reveal important system problems that have broad implications for quality, safety, and efficiency, and patient experience has been positively correlated with better health outcomes and key business financial indicators.
SIS and SPH recognize that patient perception plays a major role in the decision process when selecting an ASC. With the help of SIS and SPH, centers can analyze patient experience data and act on it to continuously improve and help grow business by managing their community reputation and supporting referrals. Gathering and analyzing the voice of the patient helps ASCs improve quality and achieve top patient satisfaction, as well as helps prepare them for optimal performance in pending regulatory requirements (OAS CAHPS) and to meet requirements for accreditation.
"Accreditation surveyors are paying attention to patient satisfaction," says Ann Geier, Chief Nursing Officer, Surgical Information Systems, and a surveyor with the Accreditation Association for Ambulatory Health Care, Inc. (AAAHC). "ASCs that are conducting patient surveys, doing benchmarking, and developing studies are really focused on continuous quality improvement and can demonstrate how they are using what they learn on an on-going basis."

"We are thrilled with how the 'voice of the patient' has emerged as an incredible driver of impact and significance in the care continuum; and we are proud to be the market leader in collecting, synthesizing, and creating actionable insights out of the patient's voice," said Amy Amick, CEO of SPH Analytics. "We are so pleased to partner with SIS to bring these valuable patient insights to the ASC community. Between our two companies, we have almost 50 years of service to ASCs and hospitals, and I am delighted to help bring this powerful patient experience solution to the expansive SIS client base."
The SIS and SPH joint solution includes:
A seamless, automated data interface to safely transfer patient demographics from SIS business management systems to the survey delivery and analytics solution with logic to separate patients that should receive regulatory surveys from those who should receive elective patient satisfaction surveys.
The largest benchmark of patient experience results in the ambulatory surgery market, enabling facilities to compare themselves across a wide number of attributes to national leaders and enable their improvement.
An analytics portal that provides easy-to-analyze results, as well as near real-time feedback, enabling swift addressing of patient concerns and complaints.
Integrated Net Promoter SystemSM analytics, one of the most recognized and effective methods for measuring patient loyalty.
Complete survey administration by the only ASCA-endorsed OAS CAHPS survey provider, offering a level of reassurance to ASCs that their patient experience measurement needs will be met well.
"We are pleased to have these two leaders in the industry join forces to serve ASCA members. We selected SPH Analytics as our Affinity Partner to administer the OAS CAHPS survey prior to a CMS mandate because we believe our members should know where they stand in the event that reporting becomes required. This will enable our members to address identified issues and improve their survey results," said John Greenwich, Chief Financial Officer of ASCA."
To learn more about the turnkey patient experience solution for SIS clients, visit SIS in Booth 614 and SPH Analytics in Booth 1128 at the ASCA 2018 Annual Conference, April 11-14, 2018, in Boston, MA.
*Mandatory participation in OAS CAHPS is anticipated to begin in January 2019. More information will be available in early July when CMS is scheduled to publish its proposed payment rule affecting ASCs for 2019.
CAHPS® is a registered trademark of the Agency for Healthcare Research and Quality (AHRQ).
About Surgical Information Systems
Since 1996, Surgical Information Systems ("SIS") has been dedicated to providing surgical care providers with the solutions and services they need to deliver improved operational, financial, and clinical outcomes. Focused exclusively on perioperative IT, SIS serves over 2900 facilities across the United States and Canada.
The SIS product suite is built specifically for the perioperative environment and includes hospital and ASC-focused solutions covering perioperative Electronic Medical Records (EMRs), Anesthesia Information Management Systems (AIMS), ASC business management, and business intelligence and analytics solutions. Services, including revenue cycle management and ASC advisory services, complement SIS' software solutions.
For more information, visit SISFirst.com.
About SPH Analytics
SPH Analytics (SPH), a leader in healthcare analytics and population health management, empowers clients to analyze and interpret their clinical, financial, and consumer experience data to maximize their performance. SPH's Population Care™, Population Value™, and Population Engage™ solutions are built on the innovative Nexus™ Platform, providing insights and impact to integrated health networks, ACOs, hospitals, ambulatory care providers, physician groups, and health plans. SPH's quality measure dashboards, financial risk measurement, healthcare survey and call center solutions, and consulting services empower clients to meet the Triple Aim by improving population health, reducing overall cost of care, and improving the patient experience.
SPH Analytics is a recognized leader in the industry, earning accolades as a top ranked population health vendor by KLAS, ranked the number one analytics firm out of the top 50 disruptive health IT companies by Black Book Research, and ranked number one in MACRA and MIPS Support Technology for Value-Based Care by Black Book Research. SPH Analytics has been providing insights to clients for more than 25 years and serves clients in all 50 states. Corporate headquarters are in metro Atlanta. SPH Analytics is a portfolio company of the $3 billion Symphony Technology Group. For more information, call 1-866-460-5681 or visit SPHAnalytics.com.
Media Contact:
Emmy Weber
Surgical Information Systems
Email: eweber@sisfirst.com
Phone: 678-507-1706