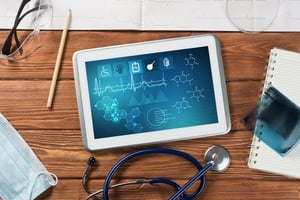 The latest version of AmkaiCharts is designed to enhance the physician experience with the software to make documentation even faster and easier.

Thursday, July 6, 2017 – Atlanta, GA - Surgical Information Systems (SIS), an industry leader focused exclusively on delivering perioperative IT to ASCs and hospitals, announced the general availability of the latest version of its No.1 ranked ASC specific EHR1, AmkaiCharts. The latest version of AmkaiCharts includes new features and enhancements to provide improved workflow and enhanced physician interaction and satisfaction with the software.

End users can now create

Physician Review Encounter templates

and add them to a patient's record at the time of scheduling. The physician templates pull in required data directly from information documented in the nursing module, reducing the time and amount of documentation required for a physician to complete the chart. Additional enhancements to the

GI Op Note

and Quick Notes functionality further reduce physician documentation time. Physicians can now map impressions, plans, procedures, and CPT® codes based on specific findings while charting GI procedures which will automatically populate in the record. Tagging capabilities have been added to Quick Notes which will recognize similar verbiage (i.e., Left, Right, Both) used multiple times and will apply it throughout the Op Note.

AmkaiCharts optional Medication Reconciliation interface (inbound from Surescripts) has been enhanced to handle non-codified medications, improving the ease and accuracy of medication history documentation.

"Physician recruitment and retention is a key goal and growth strategy for ASCs. In order to keep physicians happy and strengthen their buy-in to use Electronic Medical Records, surgery centers need an EMR with user-friendly Physician Documentation features," said Emmy Weber, Chief Marketing Officer for SIS. "The latest version of AmkaiCharts supports ASCs in their efforts around drive physician satisfaction and recruitment."
---
About Surgical Information Systems
Since 1996, Surgical Information Systems ("SIS") has been dedicated to providing surgical care providers with the solutions and services they need to deliver improved operational, financial, and clinical outcomes. Focused exclusively on perioperative IT, SIS serves over 2900 facilities across the United States and Canada.
The SIS product suite is built specifically for the perioperative environment and includes hospital and ASC-focused solutions covering perioperative Electronic Medical Records (EMRs), Anesthesia Information Management Systems (AIMS), ASC business management, and business intelligence and analytics solutions. SIS' AmkaiCharts™ solution, is the No. 1 ranked outpatient EMR[1]. Services, including revenue cycle management and ASC advisory services, complement SIS' software solutions.
For more information, visit SISFirst.com.
---
SIS, the SIS logo, and Surgical Information Systems are trademarks of Surgical Information Systems, LLC. AmkaiSolutions, AmkaiCharts, AmkaiOffice, and AmkaiAnalytics are trademarks of Amkai LLC. AdvantX, Vision, and SurgiSource are trademarks of Source Medical. Other company and product names may be trademarks of their respective owner.
1Black Book Research Rankings – April, 2017 http://www.blackbookmarketresearch.com/ambulatory-alternate-site-ehr and "Top Ambulatory Electronic Health Records Vendors Comparative Performance Result Set of Top EHR Vendors," May 2016.
CPT is a registered trademark of the American Medical Association.