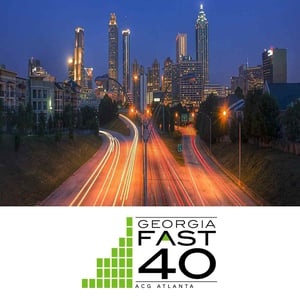 Inclusion on the Georgia Fast 40 for consecutive years reflects company's continued growth and industry leadership
Alpharetta, GA – May 23, 2019 – Surgical Information Systems (SIS), the industry leader focused exclusively on delivering perioperative IT to ambulatory surgery centers (ASCs) and hospitals, has announced it has been recognized for the second consecutive year on the Atlanta Chapter of the Association for Corporate Growth (ACG)'s 2019 Georgia Fast 40.
The list recognizes the top 40 fastest-­growing middle-­market companies in Georgia. SIS was previously named to the 2018 Georgia Fast 40.
"We are honored to receive this important recognition again," said Tom Stampiglia, SIS President and CEO. "Our company's ability to sustain strong growth in Georgia and throughout the country is a testament to our talented and hard-working team members. They strive every day to deliver the surgical information solutions required to meet our clients' ever-evolving clinical, financial, and operational needs. This includes SIS Complete™, our new, comprehensive, and cloud-based technology for ASCs. SIS congratulates the other highly respected businesses in the state also named to the 2019 Georgia Fast 40."
ACG is a global community dedicated to bringing together company leaders, corporate development executives, capital sources, intermediaries, and advisors. Its Atlanta chapter is one of the oldest and most active of ACG's 59 global chapters.
"The companies being honored this year exemplify ACG's focus on driving middle­ market growth and demonstrate the strength and significance of this sector in Georgia," said Melanie Brandt, ACG Atlanta's President and CEO, in a news release.
Applicants were required to submit three years of verifiable revenue and employment growth records, which were validated by a national accounting firm. An ACG Selection Committee evaluated each application and conducted in-person interviews with all qualified applicants. All companies on the list are for profit, headquartered in Georgia, and reported annual revenues ranging from $15 to $500 million.
SIS will receive its Georgia Fast 40 award at the annual Georgia Fast 40 Awards Dinner & Gala on June 13 at Flourish Atlanta.
About Surgical Information Systems
Since 1996, Surgical Information Systems ("SIS") has been dedicated to providing surgical care providers with the solutions and services they need to deliver improved operational, financial, and clinical outcomes. Focused exclusively on perioperative IT, SIS serves over 2,600 facilities across the United States and Canada.
SIS solutions are built specifically for the perioperative environment and include hospital and ASC-focused solutions covering perioperative Electronic Medical Records (EMRs), Anesthesia Information Management Systems (AIMS), ASC business management, and business intelligence and analytics solutions. Services, including revenue cycle management and ASC advisory services, complement SIS' software solutions.
For more information, visit SISFirst.com.
SIS, Surgical Information Systems, and SIS Complete are trademarks of Surgical Information Systems, LLC and its affiliates. AmkaiSolutions, AmkaiAnalytics, and SIS Charts are trademarks of Amkai LLC. AdvantX, Vision, and SurgiSource are trademarks of SourceMedical Solutions, Inc. Other company and product names may be trademarks of their respective owner.