ASCs continue to face challenges in collecting patient payments, but there are opportunities for growth. Here are five tips for improving patient collections from a recent webinar, "Patient Collections: Challenges, Opportunities, and Best Practices".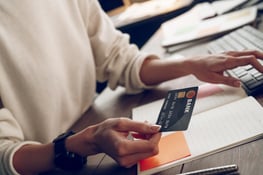 Collecting from patients is one of the top financial challenges facing ASCs. It's a challenge that has grown in recent years as patient financial responsibility after insurance has surged. In 2021, the average deductible among covered workers in a plan with a general annual deductible was $1,669 for single coverage. That's up from about $1,000 in 2011. Healthcare spending for working Americans has reached an all-time high, reports the Health Care Cost Institute. The COVID-19 public health emergency has made collecting even more difficult.
Despite this growing challenge, ASCs must collect from patients what they owe for their care. This is not only to help ensure case profitability and an ASC's viability, but most payers include requirements for contracted providers concerning collecting patient payments.
Here are five tips that can help your ASC improve patient collections.
1. Allocate time for staff training
Those staff members who communicate with patients about financial responsibility should undergo training about how to appropriately discuss the sensitive topic. Staff should understand how to speak with empathy, use simple words and language, use short sentences, be as clear and concise as possible, and be direct without sounding robotic. The use of scripts and role-playing can help staff learn these techniques.
Staff should also be able to answer common questions from patients about their financial responsibility. Some examples: Why do I owe this amount? Why doesn't my insurance cover more? What are my payment options? Can I speak with my surgeon about this?
2. Focus on patient education
Delivering effective education to patients about their financial responsibility can help improve collections and reduce the likelihood of potential problems leading up to and on the day of surgery that could cause case cancellations and no-shows. Provide educational materials well in advance of the procedure so patients have time to review and digest the information. You can provide materials in a variety of ways, such as via email, mail, on your website, or by sending a text with a hyperlink to online resources. Make sure to provide resources in the manner that patients want to receive and review them.
Educational resources around patient financial responsibility should cover the essential information and frequently asked questions. Assume patients know nothing when developing these materials. Look for opportunities to improve resources based upon staff experiences and patient feedback.
Always include contact information so patients can receive timely answers to any questions.
3. Determine and share cost estimate
Once a patient is scheduled for their procedure, determine the patient's estimated cost and then provide that figure at least one week prior to the procedure. You want to give patients enough time to make educated decisions on whether to proceed with receiving care and how they will cover their expenses if they move forward.
When providing the estimate, educate patients on how you determined their figure and identify the payment options you accept. In addition, make it clear that patients may owe additional monies following the procedure and when they can expect to receive a final bill from your ASC.
4. Carefully explain billing process
After patients select a payment option, explain how the billing process will proceed. Topics to cover include what patients will be expected to do to cover expenses, what the ASC will do to keep patients informed about and collect what is owed, and what a third-party company (e.g., healthcare credit card, lending company) will do, if applicable.
5. Survey patients on their billing experience
One of the most useful ways to improve collections is to learn from patient experiences. That's why it's worthwhile to include questions about your billing process in your patient surveys. If patients express displeasure with the process, reach out to find out why (if they don't indicate the cause on the survey) and then determine whether there is an opportunity to revise your process so future patients don't have a similar experience.
Conversations with dissatisfied patients can also help you potentially stave off a negative online review. A bad billing experience can sour patients on their visit with your ASC and even overshadow a great clinical outcome.
To learn more about challenges, opportunities, and best practices for ASC patient collections, watch this on-demand webinar!