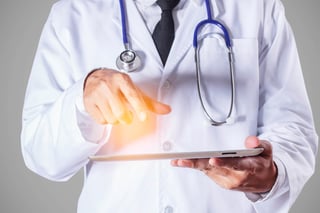 During Patient Safety Awareness Week (March 12-18) we highlighted three ways that communication is vital to ASC patient safety. But patient safety should be a priority every week. Today, we look at the increasingly important role of health IT solutions to help keep patients safe.
More and more healthcare facilities, including ASCs, are turning to technology to help provide the most effective care. It's revolutionizing every aspect of healthcare — from financial and operational to clinical — and many centers are now recognizing they can leverage technology to improve patient safety, too. We're not just talking about the latest surgical innovations or state-of-the-art equipment for when patients are under the knife. Patient safety is all encompassing; it's not just about what happens inside the operating room.
Health IT solutions are helping prevent medical errors that can occur throughout the care process, even after a patient walks out your door. Consider the following parts of the healthcare process and how health IT can improve patient safety in each:
Prescription Drugs
Doctors aren't known for having the best handwriting. It's an old trope, but any patient who's ever received a written prescription and struggled to make out what looks like scribbles can probably attest to it. Mistaken instructions can have serious consequences - medication errors can have adverse effects on patients, causing illness, and at times even death. Fortunately, today we have the benefit of digital technology that enables doctors to submit electronic prescriptions. When e-prescribing is part of an EHR system, prescriptions can be proactively checked for potential interactions with patient medications, health conditions, and allergies before they are dispensed – further reducing the chance of an adverse event.

Patient Engagement
Patients play a role in their own care. They may play an even greater role when it comes to outpatient surgery, given the nature of an ambulatory setting: patients come in for a procedure and leave the same day to recover in the comfort of their home. This means it's even more important for these patients and their caregivers to understand pre-op and post-op responsibilities. While surgery staff should discuss the details with patients in the office (and typically provide brochures with the info they need), there are technology solutions that make it easier to reach patients and communicate with them in more impactful ways. Text messaging, automated email reminders, and online portals are all examples of digital patient engagement solutions to help keep the patient informed before and after their procedure.
Transition of Care
Patients are typically referred to an ASC from another physician or healthcare organization, and they may be referred to another physician or organization after surgery, whether to a physical therapist or additional specialist. With this fractured nature of care comes inherent difficulties in coordinating treatment - as well as sharing pertinent information across different physicians and healthcare organizations.
This is where the importance of implementing an interoperable EMR system comes into play. With an EMR, multiple users can access the same patient information when they need it, wherever they need it. It provides an additional benefit for the ASC itself in terms of efficiency and accuracy, providing doctors and surgical staff with easy and complete documentation of necessary data. Cloud-based surgery coordination apps that share real-time case updates with facility staff, physicians and vendor reps also help to reduce errors by keeping everyone on the same page.
While health IT is working to make access to patient information easier, it will not change the fact that the entire care team must accurately record and report all information regarding their care delivery, and make sure they have the information they need to effectively care for the patient. At the end of the day, it's about doing whatever it takes to ensure patients will receive the right care at the right time as they move through the healthcare system.
Most medical errors aren't the result of purposeful recklessness. They happen because patients and clinicians are human, and humans make mistakes. We can be forgetful, distracted, in a hurry, cut corners or miscommunicate. Technology can help us avoid these human errors. But it's not about letting technology replace the role of a medical professional; it's about embracing the benefits modern technology offers, and recognizing the impact it can have on improving the safety of patient care.