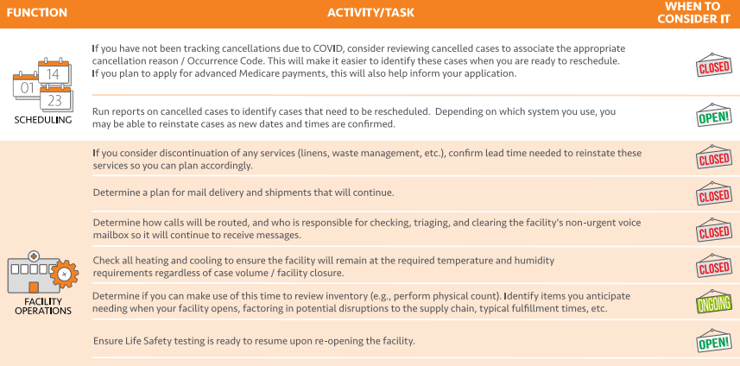 There are so many things to remember when having to significantly reduce your case volumes, temporarily close your ASC, and then ultimately return to operations and reopen your facility. In an effort to help Ambulatory Surgery Centers and their staff keep track of these tasks and provide guidance on the best time to consider action, SIS has created the ASC Checklist for Temporary Closure & Reopening Procedures. The intention of this checklist is to serve as a supplemental tool to your normal business processes and plans, as well as state, federal, and all other regulatory requirements for such processes. Here are some things to consider:
Scheduling
Keeping track of case cancellation reasons/codes makes rescheduling easier and can assist in your application for advanced Medicare payments. You can run reports to identify and prioritize which cases need to be rescheduled and when.
Facility Operations
When temporarily closing, you will need to consider discontinuation and eventual reinstatement of certain services (linens, waste management, etc.), plan for mail and delivery handling, determine how calls and messages will be routed, secure heating and air equipment to make certain your facility stays at the required temperature and humidity levels, review inventory, ensure Life Safety testing is ready to resume upon reopening, and check all facility systems (biomedical, electrical, fire safety, etc.).
Billing Processes
Ensuring your billing processes are in order will be vital to the financial health of your facility when preparing to reopen. You will need to confirm that the correct billing period is open for the month, go through your month's end tasks and reporting processes at the end of the month, make note of any upcoming payer contract dates that require action, and confirm that your Medicare contracts reflect the correct fees.
IT/System Access
With cyber-crimes on the rise and hackers taking advantage of an uptick in remote work, now is the time to be thinking about your IT systems and security. Consider resetting passwords and deactivating user access for staff members who will be gone for an extended period of time. These users can always be made active again. Make sure you have access to your SIS Customer Community and have your SIS Support line within arm's reach to stay informed and up-to-date on the latest product training. If you are able to access your system remotely, review login steps before you or your staff leaves the facility for a long period of time. If you are not able to access your system remotely and are self-hosted, be sure that you have a full backup of your database and a continuous backup plan in place during your absence, and throughout your return to operations.
Regulatory
Before reopening, you will need to review upcoming state reporting dates scheduled, physician credentialing and licensure expiration dates, AAAHC, Joint Commission, and CMS facility requirements, and take a look at ASCA's Checklist for regulatory considerations needed for your facility to remain in compliance.
A full SIS Checklist and many other helpful resources to assist during this global pandemic can be found on the SIS COVID-19 Resources page.
For further assistance, you can reach SIS Support at:
SIS Hospital: support@sisfirst.com | 800-944-3896
SIS Complete: cloudsupport@sisfirst.com | 866-265-2434
Amkai: support@amkai.com | 866-265-2434
AdvantX: advantxsupport@sisfirst.com | 800-562-7069
Vision: visionsupport@sisfirst.com | 800-246-0875
SurgiSource: surgisourcesupport@sisfirst.com | 800-447-0104