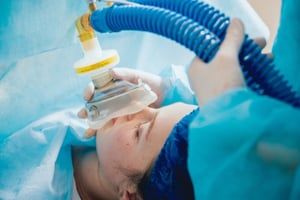 Over the last few years, there has been a significant push for standardization of patient care handoffs between one provider and another. The reason: Handoffs often represent a potential communication failure point.
During handoffs, a care provider can miss sharing information on an allergy, medication, or other critical matter, causing the next care provider to make a mistake because they either do not have all the patient information or forget some of what was told to them.
Ensuring proper handoffs is critical throughout a patient's time in your organization, and that extends to when a patient is transitioned from the operating room (OR) to the post-anesthesia care unit (PACU) or, if necessary, intensive care unit (ICU). This is a particularly challenging time for handoffs, in part because patients are typically unable to participate in the handoff communication as they are not fully awake and may still be experiencing infusion of drugs and drips.
It is also challenging because of the frequency these handoffs occur. As surgical volume increases, so do the number of handoffs.
The use of electronic anesthesia documentation can help improve the handoff process and better ensure patient safety by reducing potential failure points. Here are five ways electronic documentation supports better handoffs.
1. Remote monitoring
With electronic documentation, the handoff process can essentially begin before it actually begins. Receiving care providers can go into the system and look at the patient's anesthesia record before the patient even leaves the OR. They can view the trending of patient vitals, what medications patients were provided, and other details about the anesthesia experience. This information can help the provider be better prepared to accept the patient upon arrival.
2. Data availability
When electronic anesthesia documentation is tied in with the nursing record, the sharing of data between systems ensures that all providers can access the same data. This eliminates redundant entering of information. It also reduces the potential for errors by receiving providers when entering verbal or written information shared by anesthesia.
3. Transitional medication reconciliation
Medication reconciliation is one of the most important components of the postoperative handoff. When anesthesia and nursing documentation are shared, ideally on a single database, nurses can view what drugs were given, what time, and when they need to be re-dosed. This is an optimal approach compared to hunting through paper records or trying to remember what an anesthesia provider verbally stated. It can also eliminate errors due to poor handwriting.
4. Interoperability of data
As previously discussed, remote access and data sharing is critical for proper handoffs. Such is the case when sharing information between the electronic anesthesia documentation system and the enterprise electronic medical records system at the hospital setting. When patients leave the perioperative space and are transferred to PACU or ICU, care providers in these areas benefit when they can access data on matters such as antibiotics administered, medication re-dosing, and vital signs trends.
5. Device integration
When an electronic anesthesia documentation system features device integration, the system can begin to capture vital signs as soon as patients are connected to the physiologic monitors prior to the clinician opening the record. This functionality allows those providers receiving patients to avoid the distraction of charting vitals when the patient arrives in their care area; rather, they can then focus solely on the handoff from anesthesia and then retrospectively complete their documentation.
If you're interested in learning more about our anesthesia solutions, reach out to us here.