From products to people, Surgical Information Systems (SIS) continues to stand out as an award-winning company. SIS recently received the 2022 Top Workplaces USA award.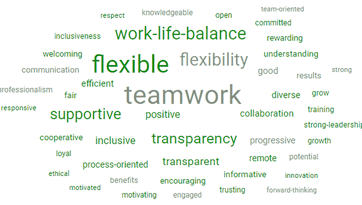 It's official – Surgical Information Systems (SIS) is an award-winning workplace. For the second year in a row, SIS has earned the 2022 Top Workplaces USA award, issued by Energage. Unlike many corporate recognition programs, Top Workplaces USA winners are chosen based solely on employee feedback gathered through an employee engagement survey. Results are calculated by comparing the survey's responses to 15 "culture drivers" that predict high performance against industry benchmarks.
What are the qualities of a top workplace? When surveyed, the particular words SIS associates used most to describe our culture are teamwork, flexible, work-life balance, supportive, transparent, inclusive, positive, and collaboration. In addition to the Top Workplaces award, SIS also earned the Top Workplaces Industry Award for the Technology Industry as well as several Culture Badges that showcase SIS' strongest culture drivers.
Here's what a few SIS associates had to say in the survey about what it's like to work at SIS:
Why do you love your job?
"I love my job because it's a place where I'm able to enhance my knowledge and have a supportive team and work environment."
"I'm able to work on problem-solving, which I enjoy immensely. I have a wonderful support structure that helps me learn and grow every day."
"The people I work with have my best interest in mind and want to see me succeed in personal career goals as well as shared department and company-wide goals."
"I feel like the management in my department truly cares about its employees. My manager has been nothing but supportive and helps me grow not only in my career but also as a person."
"I feel respected and valued."
What do you like about the direction Surgical Information Systems is going?
"The structure of the company is changing with world events. That type of adaptability and responsiveness is rare, but the key to progressing."
"We aim to be the leaders in our industry by listening to our associates and customers, and making improvements that will, in the end, help us achieve our goals."
"SIS is very customer-focused and has implemented a development process that allows our organization to ensure we are listening to our customers' feedback and taking action on the items that are most important to them. Because I am dealing directly with our customer base, it makes my job much easier when I can provide our customers with information on items they are depending on to make their workflows and processes much better."
What does Surgical Information Systems do efficiently and well?
"They have nailed transparency in regard to communicating to its employees. Whether it's on our quarterly company-wide calls or through the periodic email updates, I feel like I know the "what" and the "why" across SIS."
"The way they move on ideas! Because everyone's so collaborative, it doesn't take long to get the ball rolling on great ideas, projects, and initiatives."
"Having a high degree of integrity and being transparent."
What makes you feel appreciated at Surgical Information Systems?
"It's the type of people we have. There are almost always, 'Please' and 'Thank You's' when asked to do something or when accomplishing a task that might be outside of your normal job duties. From managers, team members, and other departments. It goes back to the culture and hiring people that care about the process as well as the result and appreciate your contribution to that result."
"To know that my leadership trusts the decisions that I make and listens to new ideas."
"Management offers and accepts feedback with regards to implementing better techniques and procedures."
---
We are who we are made up of. At SIS, we take pride in everything we represent – from the products we deliver to the people that build them – and strive to create a workplace that encourages innovation, impact, and growth.
We're looking for talented associates. To view our openings, please visit our careers page at www.sisfirst.com/sis-careers.
Read the press release and visit the Surgical Information Systems Top Workplaces profile to learn more.