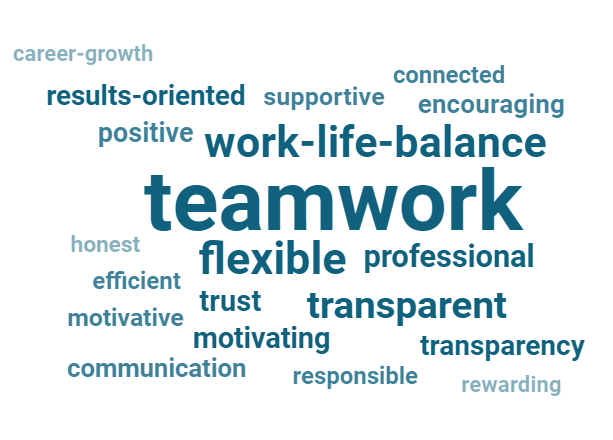 Surgical Information Systems (SIS) has earned the 2021 Top Workplaces USA award, issued by Energage, in the inaugural year of the award that builds on the program's 14-year history of awarding regional Top Workplace awards. Unlike many corporate recognition programs, Top Workplaces USA winners are chosen based solely on employee feedback gathered through an employee engagement survey. Results are calculated by comparing the survey's responses to 15 "culture drivers" that predict high performance against industry benchmarks.
In addition to the Top Workplaces award, SIS also earned the Top Workplaces Industry Award for the Technology Industry as well as several Culture Badges that showcase SIS's strongest culture drivers. As can be seen in the word cloud above, the particular words SIS associates used most to describe our culture are teamwork, work-life balance, flexible, transparent, professional, motivating, and results-oriented.
SIS's mission is to deliver solutions and services that help surgery providers, regardless of care setting, improve their organization so they can deliver the highest level of care to their patients. Our solutions help surgical care providers deliver efficient, high-quality, cost-effective surgical care.
Here's what a few SIS associates had to say in the survey about what it is like to work at SIS:
"I have always and continue to work with good people."
"I genuinely like what I do; I feel challenged by my responsibilities but am able to access the resources needed to meet these challenges; my coworkers are great people."
"I am able to work with the best in the business and learn each day."
SIS is looking for talented associates. To view our openings, please visit our careers page at https://www.sisfirst.com/sis-careers.
Read the press release and visit the Surgical Information Systems Top Workplaces profile to learn more.