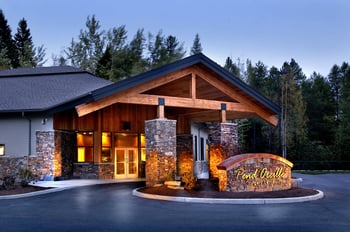 Ashley Walden, CASCC, is business office manager for Pend Oreille Surgery Center in Ponderay, Idaho. Pend Oreille Surgery Center is a multi-specialty ASC providing procedures in endoscopy, general surgery, orthopedics, plastic surgery, podiatry and urology. It has been an AmkaiSolutions partner since the ASC opened in 2009, going live at that time with both AmkaiCharts and AmkaiOffice.
Q: What are your overall impressions of working with AmkaiSolutions over these past three-plus years?
Ashley Walden: While the amount of work needed on the front end for system implementation was extensive, it's definitely been worth it. You're able to really personalize the system to the way you want it. Almost all dictionaries are customizable, so the system you're putting in place will work for your facility and your setup. Another facility would probably want it a different way. The system has the capacity to handle that, which I really appreciate.
The main thing for me working with AmkaiSolutions is the customer service. We've always worked really closely together. They've always been really helpful and responsive, welcomed our feedback and they've always been really quick to make reasonable changes we've requested. For other requests that were bigger projects, they've taken the time that was needed to address these requests. I'd rather wait and get something that works well, and with AmkaiSolutions, it's always been worth the wait.
Q: What has been your experience working with the AmkaiCharts electronic medical records system?
AW: I will never go back to paper records. Just the fact that everything is always accessible is a huge advantage over having to pay staff simply to manage the medical records. We don't have a medical records department, so I think that's a huge cost savings. We can access anything any time we want, any specific portion of the chart we want — it's all right there. The reports we can pull are as all-encompassing as we want them to be.
Just being able to analyze information that way — I don't think anybody has ever really been able to do that before with paper records. You have a system where you can say, "I want to know all patients that had implants with this lot number for recall" and you know right away. It makes things so much faster. It's such an easy process for us any time a recall comes through to just pull that report and say, "No, we didn't have any patients with that lot number, we're good to go," rather than spend hours and hours poring through charts or implant logs. That's a huge advantage since recalls seem to be happening more frequently.
Compared to paper charts, it's night and day with just the ease of use. Paper is so much more cumbersome to deal with. My favorite thing with AmkaiCharts is how it integrates with AmkaiOffice in that information entered into AmkaiCharts gets pulled into the AmkaiOffice's billing and case costing components, for example. It's essentially automated.
Q: What are your favorite features of the AmkaiOffice administrative system?
AW: My personal favorite is being able to load my insurance contracts. When you go to post a payment, everything is already posted with write-offs or however you want to do it, and the system will warn you when things don't match. It takes the brainwork out of it. There's a lot less time I have to spend poring over contracts, making sure everything is accurate. When I go to post my payments, everything I need is right there in the system.
I also love that they added a drag and drop feature in scheduling. With ASCs, we schedule things, and then the day before we have to rearrange everything. With drag and drop, it is so fast and easy. Everything is color-coded; we can organize our schedule in many different ways, and each user can have a personalized view of that schedule based on different functions they are performing and what they need to see, which I find really valuable.
I also really like the custom report feature. We've been working with investment companies, refinancing our loan through our banks, and they always need these really specific types of reports. With the AmkaiOffice custom report feature, I'm able to go through and pick out exactly what I need — no more, no less — and rearrange it in a format that makes sense to these other institutions that I've never been able to do anywhere else before. You're usually restricted to the standard reports; without customization, you have to pull several reports and compile your own report, which is irritating.
I also use the customer reports for financial month-end reporting. I can now perform different kinds of analyses with the reports, analyses I couldn't do with any other system I've ever used.
Q: Are there any other features of the AmkaiSolutions' systems you find particularly helpful?
AW: One I don't have yet but I'm excited about is the quality reporting that's going to integrate between AmkaiCharts and AmkaiOffice. That's coming soon. It will automatically load into our billing screen now that we have to report these G codes. That will be extremely helpful.
Something else about AmkaiSolutions: With the HIPAA 5010 transition, we didn't really have to do anything. They were on top of it, on time and we were ready to go for the deadline for that, which I know some software vendors weren't. AmkaiSolutions has always been that way: They work to get up speed very quickly with any changes and deliver a great solution.