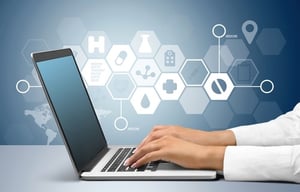 Ryan Crean is product manager for AmkaiCharts at AmkaiSolutions.
Q: What would you tell an administrator who is hesitant about switching to an electronic medical records system?
Ryan Crean: The first thing I would tell them is that the longer they hesitate, the longer they are missing out on the numerous, significant benefits that come with making the switch. These benefits touch all aspects of a surgery center's operations, including reducing errors, improving outcomes, boosting efficiency and cutting costs.
Administrators are sometimes skeptical of implementing an EMR because it involves a large initial investment and surgical facilities in most states are not yet mandated to use an EMR. However, electronic recordkeeping will be a requirement of surgery centers nationwide sooner rather than later, and administrators with the foresight to implement an EMR now will give their facility a huge advantage over those that continue to wait.
Q: What are some of the advantages of electronic medical records?
RC: The two most significant benefits for patients are risk mitigation and specialized care. An EMR provides real-time clinical alerts that flag nurses to review unsigned patient consents, drug interaction and patient allergy risks, and abnormal vitals, and offers a slew of other risk mitigation tools. In addition, clinical decision support tools allow facilities to take initial patient assessments and create a customized nursing plan to ensure all patients receive the best care for their individual needs.
For administrators, an EMR provides massive data mining and cost savings benefits. An EMR allows a facility to compile and organize information in a way that is simply impossible with paper charting. The extensive data an EMR provides can be used as leverage when negotiating contracts with insurance providers because it produces hard evidence about procedure costs. Cost savings include the substantial savings in OR and staff utilization as well as reduction in use of paper and hard copy records storage.
Q: What are some of the features in the AmkaiCharts EMR that set it apart from other EMRs?
RC: The main advantage of AmkaiCharts is that it can be configured to address the specific needs and operational design of each facility. Clinical documentation and safety alerts can be altered to fit the specific workflow of a particular facility. Our system can accommodate multi-specialty and specialty-specific ASCs.
For specialty-specific facilities, we build specialty-specific charts, but we also go a step further. We build templates that are unique to the facility, configurable not only by specialty, but also by procedure. For instance, within a specialty chart for orthopedics, we can build a customized form specifically for an ACL repair. There can also be multiple versions of this form customized to address the specific needs of different physicians.
We understand that each ASC operates differently, and we pride ourselves in our EMR's ability to meet each facility's precise needs.