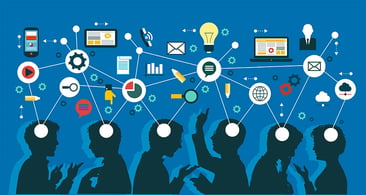 This week, SourceMed is proud to partner with HIMSS and other forward-thinking companies across the country in celebrating National Health IT Week.
National Health IT Week is an annual event offering all healthcare stakeholders an opportunity to unite under one banner and educate others on the value that health information technology (IT) brings to the healthcare system in the United States.
What is the value of information technology in outpatient healthcare? We asked SourceMed leaders to share their thoughts:
"The value of information technology in outpatient healthcare is (1) to leverage the best, most current information available to deliver an optimal patient experience and excellent outcomes, and (2) to manage the increasing complexity of care payment. Maximizing these two parameters simultaneously is the ultimate promise of leveraging technology in healthcare." – Sheila Moran, Vice President, Therapy Solutions Sales
"Health IT is critical to ASCs' ability to control costs. An important example is in inventory management, since one of the biggest expenses for ASCs is the cost of medical supplies and equipment. Software enables ASCs to closely monitor supply levels, meaning they can keep inventory low and not tie up working capital in unused supplies sitting on stockroom shelves. By loading inventory into the system in a very detailed manner (correct unit of measure, unit price, etc.), ASCs can quickly determine the real cost of supplies for a case. With that data at hand, ASCs can compare numbers between procedures and surgeons – as well as pricing between vendors – to identify and capitalize upon savings opportunities. It's also an important input to case costing, which allows centers to make sure that what they are getting paid for a procedure actually covers expenses." – Ann Geier, MS, RN, CNOR, CASC, Chief Nursing Officer
"In outpatient healthcare, the ability for information technology to "read" the clinician's documentation and "know" which billing code to select for services provided, eliminates the need for the clinician to both document and select the billing code, thus decreasing the potential for errors. IT can also select the correct billing code in those situations where the billing code for a service is different for each payer, thus decreasing denials for submitting the wrong code. Not only is the correct billing code used, the clinicians don't need to be trained on the differences and remember to choose the correct billing code. This allows the clinician to focus on the patient and on providing the best care possible." – David Asbach, ATC, Product Manager, TherapySource
"With a solid health IT foundation in place, an outpatient facility can start using predictive analytics to anticipate what's ahead and mitigate problems before they happen. You can't do that with paper. The providers who are able to collect and analyze holistic digital information about their business, and then use it to make strategic clinical, operational and financial decisions, are ultimately the ones who will succeed in the value-based, connected era of revenue cycle management." – Walter Groszewski, Executive Vice President, Professional Services
"Decision-making! The days of paper and pen are long gone. A viable future demands data. IT is more important than ever. We want to provide a valuable service at reasonable cost. How do we know if we are covering costs without the associated data? Software applications that work for us to make data storage, tracking, and analysis efficient and effective are THE key to future success." – Jho Outlaw, Senior Vice President, Revenue Cycle Services
"Because it was more organic than forced, outpatient adoption of health IT is unique. For example, legislative and regulatory developments such as Medicare and Medicaid's Meaningful Use Incentive payments have been a key driver for health IT adoption in the physician practice and acute care worlds. However, the outpatient space has proactively adopted IT even though its use is not required and most providers are not yet eligible for Meaningful Use incentives. Outpatient facilities must continuously look for new ways to improve operational efficiencies and optimize revenue while improving outcomes. For many, the secret to their success and adaptability has been the effective use of health IT." –David McMullan, PT, Chief Therapy Officer
"Digital data sharing helps create a streamlined workflow between patient care and patient billing, which allows you to run your facility more efficiently and focus on the business of healing. Employees that used to spend their time manually processing paper for referring physicians and insurers can now use their valuable time to proactively work together and with patients." – Saundra Monroe, Senior Director of Product Management
How is health IT valuable to your outpatient facility?
---
Follow the SourceMed blog this week for our special National Health IT Week series, featuring a new post each day covering health IT in the outpatient healthcare industry.