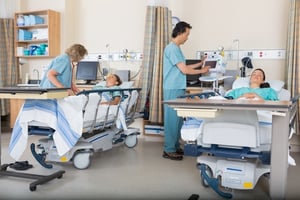 By Robert Zasa, Managing and Founding Partner, ASD Management

Robert Zasa, Managing and Founding Partner at ASD Management, has established himself as a premier thought leader in the ASC industry as his career growth has paralleled that of the industry over the past 30 years. In this article, Mr. Zasa provides insight into emerging trends in the industry and what ASC decision makers should prepare for.
A new trend in the ASC industry is the rise of independent Ambulatory Surgery Centers (ASCs) – smaller, yet multi-specialty -- affiliating with each other to form regional ASC networks. These networks can engage with ACOs or with other large payers where they have contact with the facility and the selected doctors who use the facility. Many of these centers, particularly on the West coast, wish to stay independent but need multiple regional locations to remain competitive. ASCs can engage in joint ventures with individual hospitals, yet remain independent and form their own networks with other ASCs.
In states such as New Jersey and California, where hospital networks are particularly strong, ASCs have already and will continue to form affiliations with these larger networks. These geographically diverse networks allow them to serve large companies via their third party administrators or narrow payer networks.
Another trend found in several states, payers reimburse more for hospital joint-venture centers. Following the typical model of 51% hospital ownership, ASCs can collect larger reimbursements than they can obtain on their own because of the hospital's ability to leverage payers. While lower than the standard Hospital Outpatient Department (HOPD) rates, hospital-affiliated ASCs can achieve reimbursement rates that are typically 15-20% higher than those of freestanding ASCs. This strategy increases the surgery center's net revenue and distribution payments to the physicians.
Along with stronger reimbursements, increased procedure and case volume will continue to drive new business to ambulatory surgery centers. Medicare has recently increased the number of spine procedures performed at ASCs for which they will provide reimbursement. Additionally, ASCs continue to expand their range of services to drive patient volume and increase revenues, performing everything from total joint replacement, cardiac pacemaker installation, improved G.I procedures, and more.
A more general, yet equally important trend in healthcare for ASCs is the growing number of physicians that are leaving their practices, retiring, or selling their practices to hospitals. ASCs administrators will need to increase their focus on physician recruiting to remain successful. Younger physicians who had a stake in recently sold practices and surgery centers and independent physicians who have not yet affiliated themselves with an ASC will be primary targets for recruiting.
Finally, growing numbers of surgeons are aligning themselves with large group practices -- which are joint venture partners in the surgery center using the group practice exemption -- and primary care physician networks. Primary care physicians in the large group practices drive ASC surgical volume by referring patients to the surgeons. In addition, management companies who are working with these physician groups are expressing interest in becoming a partner in a surgery center, which allows them to invest without contending with management compliance issues. As revenue is generated by the group, it is distributed using their own income distribution formula through the practice. Regardless of the vehicle, it will be more common for primary care physicians to align with the surgeons and surgery centers in the near future.