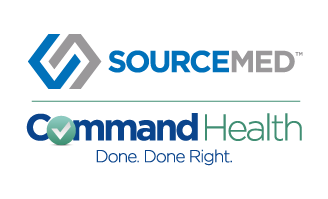 Integrated Solution Reduces A/R Days by Improving the Speed and Accuracy of Clinical Documentation
SourceMed, the largest provider of outpatient technology solutions and revenue cycle services that empower ASCs, specialty hospitals and rehabilitation clinics to optimize revenue, operational efficiency and compliance, today announces a strategic partnership with Command Health, one of the nation's leading providers of narrative clinical documentation. The partnership enables ASCs to meet the needs of their surgeons while maximizing reimbursements, through faster, more complete and more actionable clinical documentation.
SourceMed and Command Health will demonstrate the integrated solution in the SourceMed booth (#607) at the ASCA Conference in Dallas, TX taking place May 19 - 22.
Data flow between SourceMed's software and Command Health's mobile application reduces the manual touch points that hinder productivity. Surgeons access and receive updates to their schedules and patient information in real-time, minimizing the impact of last-minute cancellations or procedures that finish early or run long. The intuitive documentation features further allow physicians to correct, complete and sign dictation records within a mobile interface that improves clinical documentation quality and reduces medical liability risks. ASCs are able to avoid delays from missing or incomplete clinical notes, accelerate cash collections and provide more time for their physicians to focus on patient care.
"This collaboration with SourceMed brings a comprehensive solution to the ASC market that truly makes a difference in clinical documentation and revenue cycle management. We have seen substantial success in other segments of the outpatient continuum and look forward to accelerating revenue realization and enhancing physician engagement in ASC organizations," said Bard Betz, CEO of Command Health.
For more information on the partnership, SourceMed's clinical documentation solutions or Command Health's mobile physician engagement system, please visit:
About Command Health
Command Health has been assisting providers with documenting, supporting and analyzing their patient encounters for more than 3 decades. With proven tools that physicians endorse and actually use, because they simply work, Command Health makes it "easier to do the right thing".
Learn more at: www.commandhealth.com
About SourceMed
SourceMed is the nation's largest provider of outpatient technology solutions and revenue cycle services for ASCs, specialty hospitals and rehabilitation clinics. With over 30 years of industry experience and the confidence of more than 250 consultants and management companies, the company's software, analytics, revenue cycle services and professional services give providers the insight to deliver a higher standard of patient care. Their integrated solutions capture, exchange and analyze data empowering more than 6,500 outpatient facilities to optimize revenue, operational efficiency, and compliance.
Learn more at: www.sourcemed.net