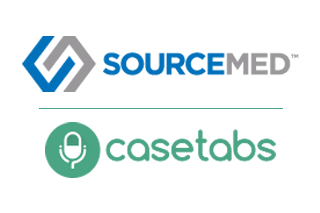 Integrated Solution Provides a Central Hub for Real-Time Case Information and Updates
BIRMINGHAM, AL – March 16, 2017 – SourceMed, the leading provider of end-to-end technology solutions and revenue cycle services for ambulatory surgery centers (ASCs), today announced a partnership with Casetabs, creators of a cloud-based application that streamlines surgical case coordination. The partnership provides ASCs with an intuitive, central hub for all case related communication and collaboration.
Most surgery centers use fragmented chains of emails, text messages, phone calls, faxes, and whiteboards to share case schedules and other important updates. Casetabs replaces these inefficient, error prone communication methods with an intuitive central coordination hub that delivers real-time case information and updates to everyone involved in patient care including center staff, physicians and their office staff, vendor reps, patients and caregivers. Integration with SourceMed's AdvantX, Vision and SurgiSource software allows real-time schedule and patient demographic information to be quickly pulled and populated into Casetabs to create a case list. Case teams can be easily added, enabling communication and coordination to ensue around the case. Because Casetabs is cloud-based, it is easily accessible to those who need it.
"Surgery centers are quickly embracing Casetabs for its ability to save time, reduce errors and lower costs. The integration with SourceMed's software greatly expands upon this value by allowing surgery centers to leverage the information they already have," said Gavin Fabian, CEO, Casetabs.
Casetabs connects surgery centers and physician offices like no other app on the market. Offices can see the exact same schedule the ASC is looking at, for their cases only, which eliminates time-consuming, inefficient back and forth to confirm schedules and obtain required documents. After a case is scheduled, changes made in SourceMed software or Casetabs are instantly shared via text/email notification and can also be accessed right in the Casetab app. By enabling communication and important updates to happen in one central app, processes are more efficient which saves time so ASCs can grow their case volume.
"SourceMed has developed a robust partner community of best-in-class technology and service providers to deliver a powerful, end-to-end solution for ASCs. This partnership with Casetabs further enhances our integrated ecosystem of solutions that enable ASCs to increase operational efficiency, profitability and compliance," said Kareem Saad, Chief Commercial Officer, SourceMed. "Casetabs is a unique offering within the ASC industry and solves a very real resource optimization problem for our customers."
To learn more about SourceMed's complete ecosystem of partner offerings, please visit: https://www.sourcemed.net/partners.
About Casetabs
Today, over 100mm surgeries are coordinated in the US every year with fragmented chains of emails, text messages, phone calls, and faxes. Casetabs replaces these ineffective and error prone methods with an intuitive cloud-based central coordination hub, which delivers real-time case information and updates to facility staff, physician office staff, physicians, and vendor reps.
For more information, visit www.casetabs.com.
About SourceMed
SourceMed's end-to-end solutions capture, exchange and analyze data that enable ambulatory surgery centers (ASCs) to maximize efficiency, profitability and compliance. With over 30 years of industry experience, the company's integrated software, revenue cycle management, analytics, clinician and patient engagement, and advisory services help ASCs deliver a higher standard of patient care and prepare for the value-based world.
For more information visit: www.sourcemed.net.