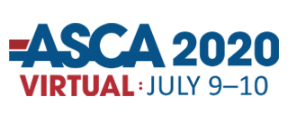 Atlanta – Surgical Information Systems (SIS), an industry leader focused exclusively on delivering perioperative IT to ambulatory surgery centers (ASCs) and hospitals, will sponsor and exhibit during the ASCA 2020 Virtual Conference & Expo, happening live July 9-10 and On Demand through October 31.
As a Gold Sponsor, SIS will feature its SIS Complete all-in-one ASC software on its Exhibitor Profile page. Visit the page to interact with the SIS Sales team and learn how:
SIS Complete provides fully cloud-based software that is easy to use, powers valuable analytics, and provides high availability with enhanced security.
Intuitive patient communication tools lead to better patient satisfaction scores, reduce case cancellations, and increase patient payments.
All physician communications happen via their smartphone, including OR scheduling updates, order creation, and report signing to ensure maximum productivity.
During the virtual ASCA conference, SIS thought leaders will present the following sessions:
Patient and Physician Engagement: Using Technology to Support Real-time Communications
Thursday, July 9, 11:00 am – 11:15 am
Daren Smith, Director of ASC Solutions
Patient and physician engagement tools are a widely underappreciated resource in the ASC world, but these tools can have a positive impact on your facility's operations. In this presentation, we explore how to use technology tools to improve communications with patients, physicians, and the surgeon's office.
Growing Without the Pains: Using Data and Analytics When Adding Service Lines
Thursday, July 9, 2:30 pm – 3:45 pm
Todd Logan, Senior Vice President of ASC Sales
One effective means of growing your ASC is adding a new service line. But how do you know what service line to bring in and when to introduce it? Learn how to gather relevant data and apply analysis techniques to make educated decisions when pursuing a new service line. Use models and scenarios to explore reimbursement, profitability, and opportunity cost for the addition of a service line.
One of Your Patients Has an Infection. What Do You Do Next?
Thursday, July 9, 4:00 pm – 5 pm
Ann Geier, MS, RN, CNOR(E), CASC®, Chief Nursing Officer
ASCs are diligent about tracking post-surgery infections in patients and use a variety of tools and processes to try to understand how and why they occurred. When an infection is uncovered, what steps does the infection preventionist need to take to reduce the risk of it happening again? Get answers to all your questions about how to respond when a patient has an infection after surgery.
"Surgical Information Systems is honored to support the ASCA organization and the 2020 virtual conference at a time when ASCs need to be more informed and connected than ever before," said Tom Stampiglia, SIS President and CEO. "As the premier meeting for the ASC industry, I am confident virtual ASCA 2020 will offer the same great content, continuing education credits, and networking opportunities as the traditional in-person event. SIS, which was named the top overall ASC electronic health records vendor by Black Book Research[1] for the fifth straight year, looks forward to showcasing our SIS Complete solution and meeting with our clients and the ASC market at large as we discuss ways to enhance and expand the reach of outpatient surgery."
About Surgical Information Systems
Since 1996, Surgical Information Systems ("SIS") has been dedicated to providing surgical care providers with the solutions and services they need to deliver improved operational, financial, and clinical outcomes.
Focused exclusively on perioperative IT, the SIS product suite is built specifically for the perioperative environment and includes hospital and ASC-focused solutions covering perioperative Electronic Medical Records (EMRs), Anesthesia Information Management Systems (AIMS), ASC business management, and business intelligence and analytics solutions. Services, including revenue cycle management and ASC advisory services, complement SIS' software solutions.
For more information, visit SISFirst.com.
SIS, the SIS logo, and Surgical Information Systems are trademarks of Surgical Information Systems, LLC. AmkaiSolutions, AmkaiCharts, AmkaiOffice, and AmkaiAnalytics are trademarks of Amkai LLC. AdvantX, Vision, and SurgiSource are trademarks of SourceMedical Solutions, Inc. Other company and product names may be trademarks of their respective owner.
[1]Black Book Research Rankings – "Top Technology Solutions: Ambulatory Surgical Centers" February 2020, "Top Technology Solutions: Ambulatory Surgical Centers" April 2019, "Top Ambulatory Electronic Health Records Solutions: Ambulatory Surgical Centers" April 2018, "Top Electronic Medical Records/Electronic Health Records Vendors" April 2017, & "Top Ambulatory Electronic Health Records Vendors Comparative Performance Result Set of Top EHR Vendors," May 2016.