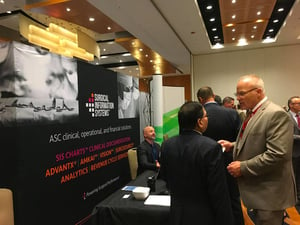 Surgical Information Systems, an industry leader focused exclusively on delivering perioperative IT to ambulatory surgery centers (ASCs) and hospitals, will exhibit at the Becker's ASC 25th Annual Meeting: The Business and Operations of ASCs in Chicago, October 18-20.
SIS will join more than 1,500 ASC surgeons, physician leaders, administrators, and ASC business and clinical leaders. As an exhibitor, SIS will showcase its web-based clinical documentation solution, SIS Charts™, which is integrated with the SIS ASC business management platforms, including AmkaiOffice™, AdvantX®, Vision™, and SurgiSource®. SIS will also introduce and demo its new SIS Charts Tracker boards.
Designed for use throughout the perioperative care continuum (PreOp, OR, PACU) and in the waiting room, the SIS Charts Tracker boards provide patient status updates based on the documentation of key milestones, which can help enhance perioperative efficiency and support patient safety efforts. The boards serve as a single point of reference by care area for everyone involved in patient care, improving communication among the perioperative team and family members.
During the conference, SIS thought leader Daren Smith, BSN, Senior Clinical Solutions Specialist, will lead the following session:
The IT Factor: Using Technology to Elevate the Patient Experience
Thursday, October 18, 10:00 am-10:40 am
SIS thought leader Ann Geier, MS RN, CNOR, CASC, Chief Nursing Officer, will participate in the following sessions:
Patient, Surgeon and Employee Satisfaction - The Triple Aim for ASCs
Thursday, October 18, 10:45 am-11:25 am
Cost Reduction and Benchmarking - 10 Key Steps to Immediately Improve Profits (Part 1)
Thursday, October 18, 2:20 pm-3:00 pm
Cost Reduction and Benchmarking - 10 Key Steps to Immediately Improve Profits (Part 2)
Thursday, October 18, 3:05 pm-3:45 pm
Cybersecurity for ASCs
Friday, October 19, 11:35 am-12:15 pm
So You Want to Be an ASC Administrator?
Friday, October 19, 1:45 pm-2:45 pm
Key Thoughts on Reducing Complications and Infections
Friday, October 19, 3:20 pm-4:00 pm
"Year after year, Becker's Healthcare puts on impressive conferences that bring together the leading minds in ambulatory surgery to learn, network, and share their expertise on how to improve the safety and efficiency of surgical care," said Tom Stampiglia, SIS President and CEO. "Now in its 25th year — an impressive milestone — the Becker's ASC meeting presents a terrific opportunity for ASCs to meet with SIS and learn about our award-winning solutions[1]; see our new tracker boards; and discuss how our solutions and revenue cycle services can help ASCs meet their ever-evolving needs and overcome new challenges."
About Surgical Information Systems
Since 1996, Surgical Information Systems ("SIS") has been dedicated to providing surgical care providers with the solutions and services they need to deliver improved operational, financial, and clinical outcomes. Focused exclusively on perioperative IT, SIS serves over 2900 facilities across the United States and Canada.
The SIS product suite is built specifically for the perioperative environment and includes hospital and ASC-focused solutions covering perioperative Electronic Medical Records (EMRs), Anesthesia Information Management Systems (AIMS), ASC business management, and business intelligence and analytics solutions. Services, including revenue cycle management and ASC advisory services, complement SIS' software solutions.
For more information, visit SISFirst.com.
SIS, the SIS logo, and Surgical Information Systems are trademarks of Surgical Information Systems, LLC. AmkaiSolutions, AmkaiCharts, AmkaiOffice, and AmkaiAnalytics are trademarks of Amkai LLC. AdvantX, Vision, and SurgiSource are trademarks of SourceMedical Solutions, Inc. Other company and product names may be trademarks of their respective owner.
[1]Black Book Research Rankings – "Top Ambulatory Electronic Health Records Solutions: Ambulatory Surgical Centers" April 2018, "Top Electronic Medical Records/Electronic Health Records Vendors" April 2017 & "Top Ambulatory Electronic Health Records Vendors Comparative Performance Result Set of Top EHR Vendors," May 2016.