Surgical Information Systems will showcase industry-leading ASC software -- including a new data reporting tool, SIS Insights -- in Chicago for Becker's 28th annual meeting The Business & Operations of ASCs, October 27-29.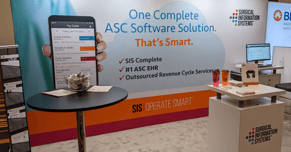 SIS will join ASC professionals, practitioners, and experts in Chicago for Becker's 28th annual meeting The Business & Operations of ASCs, October 27-29.
Over 2,300 ASCs and hospitals use SIS solutions to Operate Smart and Becker's attendees visiting the SIS exhibits will learn about:  
SIS Complete™

, a comprehensive ASC solution that helps ensure the right information is available to the right user throughout the entire surgical process, all from the cloud 

SIS Charts™

, the #1 ranked ASC EHR that covers all perioperative care phases and features configurable clinical workflow tools and concurrent charting that drive additional productivity[1]

SIS Advanced™

, a cloud-based solution that makes it easier for ASCs to streamline communications and improve engagement with patients, nurses, physicians, and surgeon offices 



---
Sneak Peak: SIS Insights™
SIS is excited to provide a sneak peek of SIS Insights™ to Becker's attendees. SIS Complete users will be able to access SIS Insights for custom reporting capabilities including the ability to create a new report or to run a saved report, as well as save reports to a personal or shared folder for easy access by other users.
SIS templates deliver a fast start for SIS Insights users by providing some of the most commonly used standard SIS Complete reports for easy customization to include adding or removing fields of data, applying filters, or re-arranging columns. The module also makes it easy for users explore how to visualize their data by displaying it in table or graphical formats such as bar or pie charts. SIS Insights reports can be saved to Excel or PDF.
SIS Insights complements SIS Reports™, SIS Analytics™, and SIS Data Feed™ to provide facilities a full range of data tools for SIS Complete.
---
Will you be at Becker's ASC? Come say hello!  
Take a few minutes to stop by SIS Booth #120  while you're in Chicago and learn about the new and upcoming features for our award-winning products.
 [1]KLAS Research - KLAS Research Rankings - "2022 Best In KLAS: Software and Services"