The philanthropic arm of SIS delivered over 800 presents to under-resourced children and youth throughout the U.S.
Alpharetta, GA – December 28, 2021 – Surgical Information Systems (SIS), an industry leader focused exclusively on delivering surgical information technology (IT) to ambulatory surgery centers (ASCs) and hospitals, is pleased to announce the success that its philanthropic arm, SIS Cares', Making Spirits Bright campaign had this holiday season.
In association with the digital giving platform, Daymaker, SIS associates accessed a unique company webpage where they were able to view the profiles of children based on their local city, learn about their interests and aspirations, and shop their tailored wish lists.
Within the first 24 hours of the campaign, SIS surpassed the original goal of 100 gifts given. Donations quickly continued to increase past the second goal of 200 gifts and by the end of the campaign, with SIS matching donations, 806 gifts were purchased for children across the U.S.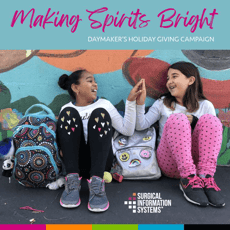 Daymaker is a compassion platform that partners with high-impact 501c3 nonprofit organizations working in communities facing systemic and persistent challenges. Their nonprofit partners provide descriptions, needs, and interests of the children they serve on a day-to-day basis, and Daymaker takes that information and creates profiles for each child on their website – including a uniquely-tailored wish list that donors can shop from. The purchased gifts are delivered to the children and include messages of support and encouragement.
"We are pleased to have the opportunity to participate in such an impactful campaign," said Tom Stampiglia, SIS Chief Executive Officer. "The commitment to spreading joy to so many amazing children is one that is shared across our company. I continue to be impressed by the generosity of our associates."
SIS Cares started in January 2014 with "SIS Cares Day of Service," a single-day event where SIS associates volunteered at one of several charities in the Atlanta area, home to SIS's headquarters. Now, SIS associates can take one day off per year to volunteer at the charity of their choice as well as participate in charity drives throughout the year.
About Surgical Information Systems
Since 1996, Surgical Information Systems ("SIS") has been dedicated to providing surgical care providers with the solutions and services they need to deliver improved operational, financial, and clinical outcomes. Focused exclusively on perioperative IT, SIS serves over 2900 facilities across the United States and Canada.
The SIS product suite is built specifically for the perioperative environment and includes hospital and ASC-focused solutions covering perioperative Electronic Medical Records (EMRs), Anesthesia Information Management Systems (AIMS), ASC business management, and business intelligence and analytics solutions. Services, including revenue cycle management and ASC advisory services, complement SIS' software solutions.
For more information, visit SISFirst.com.
Media Contact
Emmy Weber, Chief Marketing Officer, Surgical Information Systems, Eweber@SISFirst.com
[1]Black Book Research Rankings – "Top Technology Solutions: Ambulatory Surgical Centers" March 2021, "Top Technology Solutions: Ambulatory Surgical Centers" February 2020, "Top Technology Solutions: Ambulatory Surgical Centers" April 2019, "Top Ambulatory Electronic Health Records Solutions: Ambulatory Surgical Centers" April 2018, "Top Electronic Medical Records/Electronic Health Records Vendors" April 2017, & "Top Ambulatory Electronic Health Records Vendors Comparative Performance Result Set of Top EHR Vendors," May 2016.
SIS, the SIS logo, and Surgical Information Systems are trademarks of Surgical Information Systems, LLC. Other company and product names may be trademarks of their respective owner.