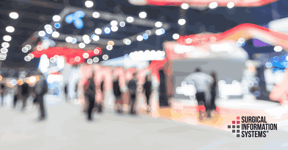 After a lengthy hiatus from in-person events, Surgical Information Systems ("SIS"), the industry leader for business and clinical surgical software serving more than 2,200 hospitals and ASCs, will be exhibiting at more than a dozen of such meetings and conferences through the end of the year.
Attendees of these events can visit the SIS booth to learn more about SIS Complete, the all-in-one ASC software that provides fully cloud-based software that is easy to use, cost-effective, powers valuable analytics, and delivers high availability with enhanced security. SIS has been rated the No. 1 overall ASC EHR vendor for six consecutive years by Black Book.
In addition, SIS representatives will be available to discuss SIS's intuitive patient communication tools that help lead to better patient satisfaction scores, support efforts to reduce case cancellations, and help increase patient payments; communications solutions that permit physicians to complete their tasks via smartphone, including OR scheduling updates, order creation, and report signing, while better ensuring maximum productivity and satisfaction; and revenue cycle services that improve financial health and performance by putting revenue cycle management in the hands of an expert team.
SIS will be exhibiting at the following 2021 events:
California Ambulatory Surgery Association Annual Conference — September 8–10 | Huntington Beach, CA
Texas Ambulatory Surgery Center Society Annual Conference — September 21–22 | Fort Worth, TX
Illinois Ambulatory Surgery Center Association Annual Meeting —
September 22 | Lisle, IL
Indiana Federation Ambulatory Surgical Centers Fall Conference & Trade Show — September 24 | Carmel, IN
Ohio Association of Ambulatory Surgery Centers — September 27-28 | Columbus, OH
New York State Association of Ambulatory Surgery Centers Fall Conference — September 29-30 | Tarrytown, NY
Michigan Ambulatory Surgery Association Education Day — September 29–Oct. 1 | Boyne, MI
Tennessee Ambulatory Surgery Center Association Fall Conference & Trade Show — September 30 | Chattanooga, TN
Kansas Association of Ambulatory Surgery Centers — October 7 | Lenexa, KS
Becker's ASC Review 27th Annual Meeting — October 21–23 | Chicago, IL
Minnesota Ambulatory Surgery Center Association — October 28-29 | Minneapolis, MN
Washington Ambulatory Surgery Center Association Annual Education Conference & Trade Show — November 4–5 | Tulalip, WA
Pennsylvania Ambulatory Surgery Association — November 8 | Hershey, PA
"Our team welcomes the safe return of in-person conferences," said Emmy Weber, SIS Chief Marketing Officer. "They are the best opportunities for ASC professionals to network, share ideas for improvement, and learn about the latest ASC trends, all with the shared purpose of advancing the quality, efficiency, and cost-effectiveness of outpatient surgery. We look forward to meeting with our clients and prospects to discuss how SIS solutions drive significant results throughout the ASC delivery model."