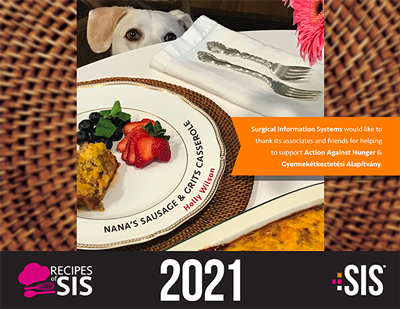 Alpharetta, GA – January 7, 2020 – Surgical Information Systems (SIS), an industry leader focused exclusively on delivering surgical information technology (IT) to ambulatory surgery centers (ASCs) and hospitals, is pleased to announce that its philanthropic arm, SIS Cares, has used its annual charitable calendar project this year to pivot and meet the humanitarian needs brought on by the pandemic. Proceeds from our 2021 "Recipes of SIS" calendar were donated to Action Against Hunger, a global organization that takes decisive action against the causes and effects of hunger, and Gyermekétkeztetési Alapítvány, a local Hungarian organization that works to end childhood food deprivation in Hungary.
To develop the calendar, SIS associates were invited to submit pictures of their own or their family's recipes, which were uploaded to Facebook. Associates were then asked to vote for their favorite dish or drink by donating to Action Against Hunger or Gyermekétkeztetési Alapítvány, with every dollar donated counting as a single vote. The 12 recipes receiving the highest number of votes are featured in the 2021 calendar — one image for each of the 12 months. Included with the picture of the finished dish, is a full recipe with assembly instructions and a personal note about the origin of the dish. We had submissions from SIS associates located around the world - from coast to coast in the United States, Hungary, and India. This the third annual charitable calendar developed by SIS and we are proud to announce it garnered a record number of donations! The 2020 edition featured associates' pets, and the proceeds were donated to Doctors Without Borders (Médecins Sans Frontières).
Action Against Hunger is an international non-profit organization that uses its funds to help treat and prevent malnutrition across more than 45 different countries. Their efforts consist of over 8,000 people in their field staff who assist more than 17 million people suffering from starvation. With almost half a century of experience working towards ending hunger, they are one of the highest rated charity organizations in the world.
Having a portion of our workforce located in Hungary, it was also important that we find the best organization in that region that focuses its energy on the same cause. Gyermekétkeztetési Alapítvány began in 1993 and works each year to ensure the children of Hungary have regular access to high-quality, healthy food.
"It's always important for us an organization to align our charitable efforts with what is going on in the world around us," said John Spiller, SIS Chief Financial and Administrative Officer. "The events of 2020 have left so many without basic access to food and we are just thankful for the opportunity to offer some assistance."
SIS Cares started in January 2014 with "SIS Cares Day of Service," a single-day event where SIS associates volunteered at one of several charities in the Atlanta area, home to SIS headquarters. Now SIS associates have the opportunity to take one day off per year to volunteer at the charity of their choice. Previous annual SIS Cares holiday fundraisers have benefitted the Ronald McDonald House, Doctors Without Borders (Médecins Sans Frontières), and numerous local charities in the cities where SIS offices are located.
About Surgical Information Systems
Since 1996, Surgical Information Systems ("SIS") has been dedicated to providing surgical care providers with the solutions and services they need to deliver improved operational, financial, and clinical outcomes. Focused exclusively on perioperative IT, SIS serves over 2900 facilities across the United States and Canada.
The SIS product suite is built specifically for the perioperative environment and includes hospital and ASC-focused solutions covering perioperative Electronic Medical Records (EMRs), Anesthesia Information Management Systems (AIMS), ASC business management, and business intelligence and analytics solutions. Services, including revenue cycle management and ASC advisory services, complement SIS' software solutions.
For more information, visit SISFirst.com.
SIS, the SIS logo, and Surgical Information Systems are trademarks of Surgical Information Systems, LLC. AmkaiSolutions, AmkaiCharts, AmkaiOffice, and AmkaiAnalytics are trademarks of Amkai LLC. AdvantX, Vision, and SurgiSource are trademarks of SourceMedical Solutions, Inc. Other company and product names may be trademarks of their respective owner.