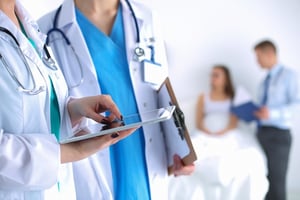 SIS Charts Version 1.4 features easy-to-use physician notes, automated capture of patient vital signs, and additional clinical workflow features that help clinicians be more efficient.
Alpharetta, GA – June 14, 2018 – Surgical Information Systems (SIS), an industry leader focused exclusively on delivering surgical information technology (IT) to ambulatory surgery centers (ASCs) and hospitals, has announced general availability of the latest release of its web-based clinical documentation solution, SIS Charts™. Designed to fit the clinical workflow of ASCs, SIS Charts Version 1.4 expands functionality to include:
a physician desktop to facilitate electronic physician documentation;
the ability to automatically capture patient vitals and other physiologic data;
integration with the Surescripts® Network for medication reconciliation;
an interface to support physician dictation and transcription;
and other clinical workflow enhancements.
SIS Charts is built with physician note templates that can be easily configured to each physician's preferences, making documentation quick and easy. Anthony Berg, M.D., an anesthesiologist who specializes in pain management and practices at Spine Team Texas in Southlake, TX, explains how SIS Charts has improved his efficiency: "I can walk out of the OR, go straight to the computer, and document the necessary elements of the postop note and operative note in a fraction of the time when compared to previous ASC EMR programs we have used.
"Before," he continued, "I would end up dictating for 40 minutes at the end of the day. Now I am able to complete charting between every case, so when I'm done with my last case and document my last note, I'm done for the day. That's a big difference."
SIS Charts can automatically capture and record patient vital signs and physiologic data from patient monitors through a third-party patient monitor device interface. Not only does this capability eliminate the need for nurses to manually document a patient's vital signs, it enables clinicians to focus on caring for the patient instead of documentation.
Surgical Center of Central Florida in Lakeland, FL, was an early adopter of electronic vitals capture. Teri Colletti, ARNP-C, Administrator and Director of Nursing, says she can't imagine not having the functionality. "In the PACU, nurses document vitals every 15 minutes," she explained. "When you have four or five patients at one time in a fast-paced environment, it's impossible to keep up.
"With electronic vitals capture, we just hook up the patient and it starts recording. You don't even have to click the time notation to start recording. The less time the nurse spends putting information in the computer, the more time the nurse is with the patient. That's the goal, and the nurses love it."
The new interface with the Surescripts Network also saves nurses time. Instead of manually entering medications into SIS Charts one at a time, the nurse pulls the list of medications from Surescripts, reviews and reconciles the medications with the patient, and automatically imports the medications into SIS Charts.
"The Surescripts interface is a huge time saver for nurses when they document a patient's home medications, especially if the patient has a lengthy list," said Jon Van Valkenburg, CASC, Executive Director of Upstate Orthopedics Ambulatory Surgery Center in East Syracuse, NY. "And from a patient safety perspective, using Surescripts creates a more accurate record than when you have to rely on the patient to recall what medications they take or read the information from a pill bottle. More accurate records mean safer care."
SIS will show SIS Charts at the 16th Annual Future of Spine + The Spine, Orthopedic and Pain Management-Driven ASC Conference on June 14-16 in Chicago at Booth #59P.
"The functionality in the latest release of SIS Charts demonstrates SIS' commitment to help ASCs deliver safe, efficient care," said Doug Rempfer, SIS Chief Operations Officer. "SIS takes immense pride in delivering a clinical documentation system that ASC doctors and nurses say they love to use because it is fast, easy, and helps them spend more time with patients."
About Surgical Information Systems
Since 1996, Surgical Information Systems ("SIS") has been dedicated to providing surgical care providers with the solutions and services they need to deliver improved operational, financial, and clinical outcomes. Focused exclusively on perioperative IT, SIS serves over 2900 facilities across the United States and Canada.
The SIS product suite is built specifically for the perioperative environment and includes hospital and ASC-focused solutions covering perioperative Electronic Medical Records (EMRs), Anesthesia Information Management Systems (AIMS), ASC business management, and business intelligence and analytics solutions. Services, including revenue cycle management and ASC advisory services, complement SIS' software solutions.
For more information, visit SISFirst.com.
Media Contact:
Emmy Weber
Surgical Information Systems
Phone: 678-507-1706