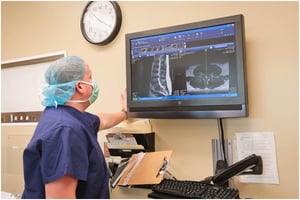 Cheryl Bloode is director at Memorial Spine & Neuroscience Center in South Bend, Ind.
Q: What was a critical factor in your choosing AmkaiSolutions?
Cheryl Bloode: Meeting and talking to people who were considering or using AmkaiSolutions. I was conducting research on electronic medical record systems at the same time as one of my very close friends at another facility. As we conducted our research, we shared the information we gathered and it definitely supported AmkaiSolutions as the best option.
I also met other people who were using or considering AmkaiSolutions, and my discussions with those people helped with my decision quite a bit.
Q: When you went live with AmkaiSolutions, you went live with both the AmkaiCharts EMR and AmkaiOffice business administrative system. Why go live with both at the same time?

CB: We're a small facility. The time we decided to go live was a quiet part of the year for us, so it just seemed to make sense to launch both simultaneously. It was helpful to go live with both, and it was a very smooth process. If I had to do it over again, I would do it the exact same way.
Q: What was your experience working with the AmkaiSolutions team?
CB: The team we had working with us during the go-live was absolutely wonderful. They were very approachable, and still are to this day. If we ever have any questions whatsoever, as silly as we might think they sound, we can make a phone call and get assistance immediately. It's really nice. The personal service is impeccable. I feel like we've become friends with many of the AmkaiSolutions team members.
Nobody likes change, everybody dreaded the go-live, but within a day and a half, all of my staff members were on the systems and they absolutely loved the products. With our previous EMR, it wasn't like that at all.
Q: How else do the AmkaiSolutions' systems stand out against the products you previously used?
CB: One of the features my team and I liked most about AmkaiSolutions is that we were able to put together the programs with just the components that our facility needed. In our previous EMR, there were features in the program that didn't apply to us. We're an outpatient spine center. We didn't need to see charting, forms, etc., that related more to an endoscopy center, and we couldn't edit those out because that was just the nature of the program.
With AmkaiSolutions, we were involved from day one with designing the EMR and office system the way we wanted them. We could make changes to the system and include what was specifically important to us. We can still make changes to the systems as we need to. In fact, we recently added a question to our pre-op phone call script. We were never able to do that with our old system. With our previous inventory management system, we were never able to add and delete supplies from the inventory list without making phone calls to the vendor and having them do it. With AmkaiSolutions, we can make these changes ourselves. The control factor is wonderful.
Q: Since you're in administration, you work in AmkaiOffice frequently. What do you see as some of the system's best features?
CB: The reporting: love it. The inventory management piece: love it. Scheduling is easy; my schedulers have no problem going in and blocking times for physicians, which we were not able to do before. The billing portion is wonderful. My billing staff members appreciate that they can easily run reports. We've had no issues with the system. We're really happy with it.
Q: Why did you decide to have your ASC make the switch to an EMR?
CB: For ASCs, an EMR is not yet a CMS requirement. We know it will be required eventually, so rather than wait, we decided to go with an EMR when we opened about six years ago.
Yes, paper is easy. Nurses love paper. I love paper. But an EMR is so much easier to use to track data and submit reports, especially with AmkaiCharts. I basically just pull up my report section, put in dates or whatever I need to look at and instantly have a comprehensive report with all the information I want. With a paper system, I would need to do all of that manually.
Chart audits are so much easier. Tracking is easier. I think an EMR — especially AmkaiCharts — is a wonderful product for an ASC.