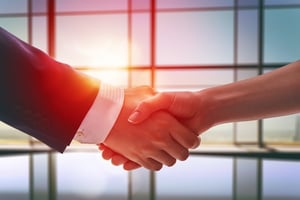 Craig Lahey is sales executive at AmkaiSolutions.
Q: What do you find so enjoyable about working with surgery centers throughout the country?
Craig Lahey: I've been with AmkaiSolutions since its inception in 2004. I was the third employee that joined AmkaiSolutions and the only salesperson. We've obviously grown quite a lot since then, but what hasn't changed through the years is that AmkaiSolutions is a company built around a strong belief in the quality of its products and delivering quality service to its partners.
With a foundation like this, it makes it really enjoyable to work in this industry and with the partners we have nationwide. It's a small enough industry — a vertical market — that I am fortunate to see many of the same people year after year at industry events, and it's rewarding to have so many of them as our partners.
Q: To what do you attribute the success of AmkaiSolutions?
CL: People are looking for a personal touch. Sometimes that can become less of a priority when you grow as quickly as AmkaiSolutions has over the years. But what we've done as a company is to make sure the personal touch we have with our partners did not go away. That's a big advantage for us, and it's due to our implementation, training and support teams making site visits or picking up the phone and talking to our partners, finding out what they need and how we can help them achieve their objectives. Our clients want to feel that personalization, especially since they don't often get that from other vendors. We do whatever we can to keep our clients happy, and that's accomplished by the great team we've put together.
Q: How do you think AmkaiSolutions has been able to grow so quickly in such a short time?
CL: The key is we listen to our clients. Our products have evolved because of what we learn from our clients. Any time we go into a facility, we find out new things about the changing needs of ASCs and develop new features to add to our software to address these needs. We regularly call our clients ask questions like: How do you like our software? What would you like modified? What are we missing? What can we do to make our software better? Software should never be static; it should go through frequent modifications and upgrades. We do whatever we can to not only stay current but also to make sure our software is superior to other solutions on the market.
Q: How do staff members of your ASC partners typically respond to their facility's addition of the AmkaiCharts EMR and/or AmkaiOffice business management system?
CL: When you first go into these facilities, we often notice that staff feels trepidation on the pending change. That's not surprising, as nobody likes change. But what's very interesting is that not long after we implement one or both systems, those same people cannot imagine how they worked without them. It's really exciting to see sites evolve from a paper environment to a paperless environment, and how quickly they recognize the advantages now afforded to them. I enjoy when they see that change, knowing we're helping these facilities with their workflow and finances.
Q: For surgery centers still using paper records, why should they make the switch to an EMR like AmkaiCharts?
CL: It will give them a big advantage. When we sit down with prospective clients, we show them all the advantages of an EMR, and the money that they don't even know they're spending on day-to-day business that can be saved with an EMR. Once they receive this education, they understand how quickly they will make their money back and improve their operations significantly in the process.
Q: What are some of the ways ASCs save money with an EMR?
CL: In this economy and in this industry, which receives such low reimbursement, ASCs need to cut costs and improve efficiencies wherever they can. While an EMR is an investment, when AmkaiCharts saves our clients 10 minutes per chart, saves them time on compiling data, saves them time on using that information the way they want to, we're saving them money every time they use the system. We enhance workflow, allow staff to perform tasks much more quickly and leave to go home on time, so there's a reduction in overtime and staffing needs. Pulling data is one of the biggest timesavers when facilities make the switch to an EMR. Staff no longer needs to go through paper charts. They can just click a button and get all of the data that used to take them hours and hours to compile. We understand that an ASC is a business, and a big focus of ours is to help our clients improve their finances through the use of our systems.
Q: How does an EMR help with providing high-quality care?
CL: In an EMR like AmkaiCharts, there are so many stopgaps in place that it's almost impossible to not provide high quality of care. There are alerts that pop up if a staff member forgets to fill something out; fall risk assessments; reminders to perform tasks staff members might not even know they should be doing; and so much more. AmkaiCharts is customizable so ASCs can often decide what alerts they want or do not want — our system gives them that flexibility. But we have designed the systems to help make sure ASCs can do anything and everything they can to keep their patients safe and protect themselves.